---
The fact that 1 kg of water has the equivalent volume as 1 litre may sound simple, but this rule of thumb is of little help at terminals where different liquids are stored and transferred. Taking various densities and temperature influences into account is not the only factor. Tank gauging is too often carried out with dip tapes, which leads to an aggregation of many small, uncertainties of measurements.
As Denis Juillet from Endress+Hauser explains in this Q&A, professional terminal management sheds a different light on the situation.
For decades, Endress+Hauser has been installing level and flow technology at terminals all around the world. Is that what is meant by 'terminal management'?
Denis Juillet: We do a lot more today, and that begins with a thorough consultation. By showing our customers where it makes sense to precisely measure material flows during loading, unloading and inventory, we help them identity losses. We call it 'zero loss'. There are still too many inaccurate measurements carried out during the product transfer at these terminals. The only way to detect loss during the transfer process is to measure the quantities in the terminal storage tank before and after loading the tanker, and precisely measure the amount that was transferred. And detecting loss is the only way to localise it and carry out appropriate measures.
What is the magnitude of the losses that terminal operators typically experience?
When you think about the fact that tanks at many locations are gauged with dip tapes, it's not difficult to imagine that this creates a fair amount of uncertainty. Let's assume a tanker is being loaded. There are people using certified measuring tapes to dip the terminal storage tank and the ship, both before and after the transfer. This is usually followed by a lively discussion regarding the actual transfer quantity, because for one thing, the chances are good that the measurements on both sides differ. Secondly, product loss could have occurred during the transfer to the ship, whether through dilution, a small leak or a leaky fitting. This almost always leads to a deviation, big or small, which can be easily prevented by using suitable radar- or servo-based tank gauging measurement devices to perform a static inventory in all of the tanks, and also by dynamically measuring the amount flowing through the pipeline with the help of a reliable flowmeter. If there is actual product loss, it will quickly become visible. It's not uncommon to see a loss of 0.5%. That sounds negligible, but if it involves the transfer of millions of litres of an expensive product, such as gasoline or diesel fuel, it can quickly add up to tens of thousands of euros – per month.
How many terminal operators actually rely on measuring tapes these days to determine what goes in and out of a tank?
In Europe, around 50%. In Asia, with the exception of Japan, we estimate it to be as high as 80%. If all of them would reduce unaccounted losses to 0.5% or even less by using modern measurement technology, this would yield enormous quantities. Even if 'zero loss' is an unrealistic goal, all of them should strive to minimise loss as much as possible. And who wants to give something away to the tax authorities? The problem is, those who measure incorrectly often end up paying too much in taxes.
So you're saying that zero loss is more of a concept than a technology?
Exactly. It's a concept that can be leveraged at different points. With monitoring, for instance, it answers the question, 'What does my inventory currently look like?' It creates transparency across the entire custody transfer process. And it contributes to a safer and more reliable transfer, because it acts as a mechanism to prevent the unauthorised removal of a product from tank storage facilities and pipelines. On top of that, it significantly increases safety thanks to Safety Integrity Levels compliance for overfill protection. That's something else that operators should not do without.
What else does Endress+Hauser offer in the area of terminal management?
We don't just supply the necessary measurement technology, which of course is suitable for legal custody transfer applications, and help operators optimise their systems in the direction of zero loss. We can also supply the necessary equipment to support entry and exit controls, as well as driver and vehicle authorisation. All of this is rounded out by our portfolio of diverse terminal automation software tools, which among other things display key performance indicators (KPIs) and provide reports that satisfy legal weight and measurement requirements. These tools also manage the order allocation and support the terminal logistics with a queuing system that optimises waiting times for the trucks to be loaded. Taken altogether, we have a solution that goes far beyond measuring tank levels and flow. Our Terminalvision software can also be connected to commercially available instruments from third parties, such as weigh bridges, batch controllers and access controls. That means we can completely furnish loading depots and terminals that handle road trucks, rail cars or ships.
What could keep your customers from immediately investing in Endress+Hauser's terminal management solutions?
The fact that maintenance budgets, which are frequently approved for only one year, are not always sufficient. Many those who are responsible for maintenance understand that new or additional measurement technology and supporting systems make sense. Best case is, we work together with them to find a way to put together a progressive modernisation plan.
Things moves faster if the terminal operator is pressured to carry out a modernisation plan for business or legal reasons. The entire resources then become available more quickly. It's better not to wait too long, because you can't underestimate the impact on a terminal's reputation if it becomes known that transfer quantities are inaccurate or in question. That could compel some customers, namely the large petrochemical companies, to switch terminals.
How fast can terminal operators expect to get a return on their investment?
Less than a year is not uncommon, but it depends on the products and quantities that are transferred – and of course on the current condition of the terminal. Timeframes between six months and 2.5 years are realistic.
Read the article online at: https://www.tanksterminals.com/terminals/24042019/the-path-to-zero-loss/
You might also like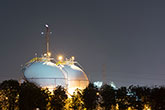 In November CNPC Tangshan LNG Terminal welcomed its 472nd LNG vessel in a 10-year milestone.