---
BP has signed a gas supply agreement with ENN Group (ENN) to jointly support the growing energy needs of China's southern Guangdong region.
Under the terms of the agreement, BP will provide ENN with 300 000 tpy of pipeline gas regasified from LNG for two years from 1 January 2021 in Guangdong. The LNG will be received and regasified through the LNG receiving terminal of Guangdong Dapeng LNG Company Ltd (GDLNG) where BP holds regasification capacity.
Dev Sanyal, Executive Vice President of BP Gas & Low Carbon Energy, said: "Our strategy is to integrate energy value chains and, with this transaction, we have created an innovative model that integrates upstream gas resources, transportation and trading, into downstream markets in China. This is the first time an international energy company will regasify LNG through a Chinese terminal and also directly supply gas to customers. We look forward to further cooperating with ENN and contributing to China's ever-growing energy demand."
Wang Yusuo, chairman of ENN Group, said: "Today's cooperation will enable ENN to provide better resources and services to our customers. It will also empower the energy industrial reform and development in China. Looking into the future, BP has announced its respected 'Net Zero' ambitions. ENN is also dedicated to building a modern energy system by adopting digital technologies. These visions to better build our planet, will need support from all aspects. It's a great beginning. We hope to deepen cooperation with innovative outcomes, together contributing to the development of global clean energy."
According to BP's 2020 Statistical Review of World Energy, global natural gas consumption grew by 2% in 2019, with a 54 billion m3 increase in LNG exports. The strong growth was boosted by China, where the country's LNG imports rose by 11.3 billion m3, making it the biggest increase in a single country.
"As China progresses the coal to gas switch and advances the energy transition, BP is committed to being a trusted and valued partner, bringing smart and low carbon solutions to contribute to a net zero future," added Simon Yang, BP China President and BP Senior Vice President, Regions, Cities & Solutions for China.
To date, BP is the first international energy company to invest in an operating LNG terminal in China. GDLNG, which BP has a 30% stake in, is China's first pilot LNG import and regasification terminal. Dongguan ENN is an important customer of GDLNG, cooperating more than ten years. For the past decade, GDLNG has delivered approximately 50% of the accumulative gas consumption to its customers in Guangdong region, making it one of the most utilised terminals in China.
Zheng Hongtao, Senior Vice President of ENN Group gas business, said: "The cooperation has enriched gas supply in the Guangdong region, providing support to the development of ENN's gas business. Meanwhile, the innovative business model of LNG import, processing and transportation, sets a good example for China's LNG industrial market reform."
Read the article online at: https://www.tanksterminals.com/terminals/09072020/bp-signs-gas-supply-agreement-with-enn/
You might also like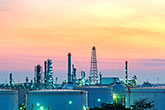 Proton Ventures was awarded FEED by Vesta Terminals for the first independent ammonia terminal of North-West Europe.