---
Vopak has teamed up with I-IoT company TWTG to improve the efficiency and safety of its storage terminals worldwide.
The first pilot of TWTG Valve Sensors have been installed in the Port of Rotterdam. Vopak has a total of 68 terminals, and more than 250 000 valves in different variations. Therefore, it is crucial to maintain existing processes and procedures, hence all solutions are designed to be retrofittable and ATEX-certified.
Goran Gavric, CEO of TWTG, said: "TWTG is proud to be working with Vopak to create new and intelligent solutions for existing processes. I-IoT solutions can help the industry become smarter and therefore more efficient rapidly over time. Our first pilot with our ATEX- and IECEx certified Valve Sensors and LoRa WAN I-IoT network at Vlaardingen Terminal was a huge success, we're laser focussed on expanding to the coming ten thousands of units".
"Together with TWTG, we are developing an extra layer of technology in our digital transformation journey to turn smart industrial terminals truly into a reality" said Leo Brand, CIO of Vopak.
Over a three year period between 2017 and 2019, Vopak is investing €100 million in technology, IT and innovation, with the aim to drive the company's competitiveness in serving the industry safely.
In the first instance, TWTG will work on fitting dedicated I-IoT sensors on existing valves of large pipes. This will bring a greater certainty on the status of the infrastructure (i.e. spillage prevention) and therefore increase the safety for Vopak's workforce. Initiatives like this one will drive the digital transformation of the industry, bringing existing technologies such as sensoring, mobile communication, and large system integration together to create a safer, sustainable, and more productive working environment. TWTG and Vopak are researching together for opportunities in the near future.
ATEX- and IECEx-certified
The main development challenge was to create battery-powered solutions with an expected lifetime of three years, with very competitive pricing. TWTG Valve Sensors are ATEX zone 1 and IECEx certified, and are engineered to the extensive reliability demands in daily operations for industrial use cases.
The products use LoRa Wan networking architecture, which is installed on-site and is specifically designed by TWTG for industrial sites globally. The network is configured to not send out data off-site, to ensure cyber security.
Read the article online at: https://www.tanksterminals.com/terminals/05072019/vopak-teams-up-with-twtg/
You might also like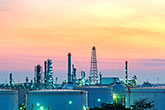 Proton Ventures was awarded FEED by Vesta Terminals for the first independent ammonia terminal of North-West Europe.