---
Clean energy rules being imposed on shipping companies in less than 16 months time are spurring companies to revise the way in which they purchase fuel.
Described as one of the biggest changes in oil market history, the radical reduction in permitted levels of sulfur from 3.5% currently to 0.5% as of 1 January 2020 means shipping companies are suddenly confronted with new demands on their fuel purchasing processes. In order to minimise running costs while ensuring compliance in the face of tough penalties, shipping companies are re-thinking the management systems they use to control and optimise fleet level bunker procurement.
Hafnia Group, a ship owner and operator of tankers for transporting oil products, has mandated Inatech, a unit of Glencore, to implement its Shiptech platform for optimising part of the fuel procurement process. By digitising the bunker management process, the buyers can focus on market analysis and managing suppliers. Shiptech is integrated into voyage systems and financial data functionality.
As well as adapting to the International Maritime Organization's (IMO) new emission standards, shipping firms have been shaken by the recent contamination of fuel supplies. Hundreds of ships have been impacted as the infected fuel has damaged engines mid-voyage. Spreading to Singapore and elsewhere in Asia, the contamination is believed to have originated in the US Gulf Coast from suppliers blending inappropriate ingredients. The IMO 2020 rules will increase the amount of blending with so-called cutter stocks in shipping fuel, raising the risk of further contamination.
"The previously sleepy world of shipping fuel procurement has had a rude awakening these past few months from both the impending emissions regulations and the recent fuel contamination issue," said Jean-Hervé Jenn, CEO of Inatech.
Read the article online at: https://www.tanksterminals.com/storage-tanks/27092018/hafnia-mandates-inatech-to-prepare-for-2020-sulfur-cap/
You might also like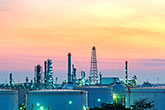 Proton Ventures was awarded FEED by Vesta Terminals for the first independent ammonia terminal of North-West Europe.