---
Inter Terminals is optimising capacity utilisation across its European storage network to meet increased activity levels. The company's total bulk liquid storage capacity in Europe currently stands at over 4.25 million m3 or approximately 27 million bbls.
At Inter Terminals Denmark, three tanks with a combined capacity of 37 600 m3 at the Asnaes Oil Terminal (AOT) are being returned to service in response to continuing strength in the heated oil market. A further two tanks, each with a capacity of 20 000 m3, have recently been recommissioned at AOT and are already being utilised to store heated fuel oil.
In the UK, Inter Terminals has launched a project to convert a variety of mild steel tanks with a combined capacity of just under 34 000 m3 at its Immingham East and West Terminals to meet changing market requirements. The company's project engineering team is adapting former heavy fuel oil storage for distillates. The project represents a sizeable conversion of Inter Terminals' remaining oil storage capacity in the UK to meet increasing demand for diesel storage.
Capacity has been increased at the company's facilities at Mannheim in Germany via construction of six 1500 m3 specialised stainless steel tanks. The tanks were built offsite prior to being lifted in place during a specialised 10 hour operation. The €6 million project was completed on time and on budget and with exemplary safety performance. All six tanks are now fully operational.
Additional tank capacity is also being utilised in Sweden where Inter Terminals operates a four terminal complex. Extra tanks are being used to store 20 000 m3 of fuel oil at Göteborg and 19 500 m3 of methanol at Malmö.
Paul Oseland, Commercial Director for Inter Terminals, says fast moving market trends in the European storage sector demand an agile response from storage providers. "Being able to offer convenient, cost-effective storage solutions in key locations is crucial to keeping your tanks full," he comments. "Inter Terminals has one of the most comprehensive storage terminal networks in Europe, with 16 terminals in prime locations for receiving, storing and distributing a wide range of products."
Inter Terminals' facilities along the eastern coast of England are ideally placed for the receipt and distribution of fuels via highly developed transport links. In Germany, its two terminals on the River Rhine provide a strategic storage hub for the heart of Europe and have efficient access to the major ports of Rotterdam, Amsterdam and Antwerp. Inter Terminals Denmark in the Danish Straits occupies a strategic position for international ship-to-ship movement and contango logistics of oil products within Europe and beyond, while the Swedish terminal complex serves the important west coast and Baltic Sea product flows.
Read the article online at: https://www.tanksterminals.com/storage-tanks/23112016/inter-terminals-optimises-storage-capacity/
You might also like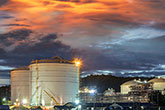 Square Robot is celebrating the launch of a series of in-service storage tank inspections in partnership with the Tennessee Valley Authority (TVA) through the Electric Research Power Institute's (EPRI) Incubatenergy® Labs Cohort program.