---
In its storage terminal in the port of Rotterdam, LBC Tank Terminals has just kicked off one of its key current investment projects. With this wide ranging project, which was christened 'Rainbow', the company will triple their storage capacity for petroleum products and chemicals to a grand total of 250 000 m³. In the first phase, 16 new storage tanks and a new jetty will be installed, the land side will be expanded and the infrastructure within the tank park will be modernised integrally. In addition to expanding capacity, both efficiency and safety will also be optimised. LBC Tank Terminals looks favourably upon the future of the ARA cluster (Antwerp-Rotterdam- Area) and is reinforcing its market position by means of this project.
LBC Tank Terminals is using the services of Belgian engineering and construction company Engicon nv (Geldof) for the realisation of all mechanical aspects within this expansion project.
Sizeable scope
For Geldof, the project includes among others the realisation of 16 new storage tanks, executed in qualitative duplex stainless steel, with a capacity up to 3000 m³. The impressive tanks, ranging up to 15 m in diameter and over 17 m in height, are fully constructed and finished in Geldof's workshops to be delivered ready made in the tank park by way of the Channel and placed onto their foundations.
"We are very accustomed to this 'shop built' approach and over the years we have built up quite a large repertoire of specific know-how and expertise," said Kevin Mortier, Project Manager at Geldof. "This method allows us to construct the tanks in the highest quality and safest conditions, while simultaneously the civil works can be executed on site. Furthermore, this approach has the added benefit of a shorter delivery period for the client."
As well as the increase in storage capacity, the logistical supply capacity will also quadruple. A new jetty will be built, equipped with among others 44 loading arms for seagoing and inland vessels. On the jetty and the land side of the terminal, dozens of kilometers of new stainless steel pipe lines will be installed, along with a few thousand tonnes of steel structures for support. Furthermore, a brand new loading and unloading station will be built for trucks. In order to handle and store the products in optimal conditions, the entire installation will be insulated and provided with the most modern heating and safety equipment. As a result, LBC Rotterdam will be one of the most specialised terminals in Rotterdam.
Managing challenges
Geldof will not only build and supply the superstructure of the jetty, pipes, storage tanks and related infrastructure. As main contractor, it will also fulfill a coordinating function with a number of strategic partners and scores of suppliers. In addition to the complexity of this project, time pressure is also a challenge; in the summer of 2016, the 16 tanks are to be delivered, the next phases following not long behind. Furthermore, the existing infrastructure will remain in use during the execution of the works.
"Top-notch planning, smooth communication and a flexible organisation are important success factors in keeping the nuisance at a minimum for our customer without compromising in efficiency," said Ivan Degroote, Project Director at Geldof, "It goes without saying that also safety, both for humans and for the environment, is of vital importance here."
Adapted from press release by Rosalie Starling
Read the article online at: https://www.tanksterminals.com/storage-tanks/11032016/geldof-contracted-for-lbc-rotterdam-expansion-project-2745/
You might also like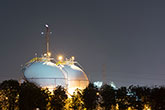 BP and PetroChina have agreed to acquire 2 billion m3/yr of regasification and storage capacity at Gate terminal.