---
SemGroup® Corporation has announced that it has executed a definitive agreement to acquire Houston Fuel Oil Terminal Company (HFOTCO), one of the largest oil terminals in the US, from investment funds managed by Alinda Capital Partners. This acquisition establishes SemGroup's position in the premier energy market, the Houston Ship Channel.
The 16.8 million bbl terminal is strategically located on the US Gulf Coast with pipeline connectivity to the local refining complex, deep water marine access and inbound pipeline, rail and truck receipt capabilities from all major producing basins. The assets are located on 330 acres on the Houston Ship Channel, one of the most active trading centres for residual fuel oil and crude oil in the world. The business is fully supported by take-or-pay contracts with primarily investment-grade counterparties that have been customers for an average of 15 years. HFOTCO is currently executing on contractually supported growth projects, including a new ship dock, a new pipeline and connections, as well as an additional 1.45 million bbls of crude oil storage, expected to be in service mid-2018.
"This is a transformational acquisition that adds tremendous stability to our business and provides a dynamic platform for growth," said SemGroup President and CEO Carlin Conner. "Consistent with our strategy to diversify our portfolio and become more refinery facing, HFOTCO brings a well-established base of high-quality, long-tenured customers. At the same time, the terminal's premier location on the Houston Ship Channel provides deep water access and is well positioned to capture increasing export volumes. With the addition of HFOTCO, SemGroup will be uniquely positioned to capture the future trends in exporting crude oil and refined products resulting from the near and long-term anticipated growth in US shale production."
The total purchase consideration to acquire HFOTCO will consist of two payments. The first payment will be US$1.5 billion at closing, including the assumption of an estimated US$785 million of existing HFOTCO debt, and issuance of between US$300 million to US$400 million in common shares, at SemGroup's election, to Alinda at US$32.30 per share. The remainder of the initial payment will be funded in cash from SemGroup's revolving credit facility. The second payment will consist of an additional US$600 million which will be paid in cash before the end of 2018, which aligns consideration with EBITDA growth. SemGroup will have no obligation to make the second payment, which instead will be an obligation of its acquisition subsidiaries and secured by a pledge of the equity interests in such subsidiaries. The purchase price will be subject to customary adjustments.
Chris Beale, Managing Partner of Alinda Capital Partners, commented, "The HFOTCO management team has done an excellent job of growing and diversifying a world-class terminal business. We believe that adding this asset to SemGroup's portfolio is a great way to leverage customer relationships, strengthen both businesses and create additional shareholder value."
The acquisition is expected to close in the third quarter of 2017 (3Q17), subject to the receipt of certain governmental approvals and the satisfaction of other customary closing conditions. SemGroup intends to maintain HFOTCO's workforce and anticipates that the company's approximately 125 employees will become members of the SemGroup family upon the transaction's close.
Senior management at both SemGroup and HFOTCO have several decades of combined experience managing terminalling and logistics assets in the U.S. and abroad. SemGroup currently operates 7.6 million bbls of crude oil storage in Cushing and another 8.7 million bbls of multi-product storage in Milford Haven, UK. Prior to SemGroup, CEO Carlin Conner spent more than 20 years in the terminal industry, most recently as managing director of Oiltanking GmbH, an independent worldwide storage provider based in Germany.
Read the article online at: https://www.tanksterminals.com/storage-tanks/07062017/semgroup-to-acquire-houston-fuel-oil-terminal-co/
You might also like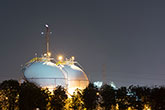 BP and PetroChina have agreed to acquire 2 billion m3/yr of regasification and storage capacity at Gate terminal.