---
A report published within the Journal of Loss Prevention in the Process Industries uncovered that 74% of accidents that occurred within industrial facilities took place in oil storage terminals and petroleum refineries. Human error was also identified as the biggest risk to terminal operators.
As a result, the tank storage and terminal industry is increasingly turning to drones to improve safety. Growing at an annual rate of 20.9%, the unmanned aerial vehicles and drones' market has grown beyond its initial defence application. The technology is revolutionising the industry by enabling businesses to cut costs and reduce staff exposure to risk.
Four times faster than traditional inspection methods, drones and unmanned aerial vehicles (UAVs) have enabled oil and gas businesses to report seven-figure savings. The technology also reduces or in some cases eliminates 'Persons on Board' (PoB) issues and downtime.
Cyberhawk Innovations and Avetics Global Private Limited, two of the leading drone experts, will be speaking at the upcoming Tank Storage Asia conference at the Marina Bay Sands, Singapore.
Malcolm Connolly, Founder and Technical Director of Cyberhawk Innovations, comments: "We conducted the first UAV tank inspection in 2015 and have seen the industry embrace the technology wholeheartedly.
"Traditional inspection methods require scaffolding and teams of surveyors and technicians to perform visual surveys and take measurements. There are multiple liabilities associated with this type of work, ranging from dropped objects when lowering equipment into the tank, to potential damage to the tank coating, and working at height within confined spaces. UAV inspection not only reduces these risks but also offers a quicker, cost-effective means of inspection."
Drone inspection involves capturing, storing and analysing large quantities of data. When tapping into advancements such as 'machine learning', recording and processing data from the same site over time can help operators to better monitor tank structure. Advancements in drone technology are turning essential maintenance efforts into a safer and more streamlined data collection process for implementing maintenance management systems.
Nick Powell, StocExpo & Tank Storage Portfolio Divisional Director, states: "Safety is key within the industry, but despite safety measures being taken, accidents do still occur. Unmanned aerial vehicles are a welcome addition to the industry, and are already making a marked difference. That's why we've invited Cyberhawk Innovations and Avetics Global Private Limited to speak at the Tank Storage Asia conference - we think this is a real area of progress for our industry."
Tank Storage Asia takes place in Singapore on the 26th – 27th September, the conference is a 'must-attend' for professionals with a vested interest in safety, inspections, efficiency and cost-saving.
Read the article online at: https://www.tanksterminals.com/storage-tanks/05092018/drones-solving-safety-challenges-within-the-tank-storage-industry/
You might also like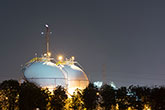 BP and PetroChina have agreed to acquire 2 billion m3/yr of regasification and storage capacity at Gate terminal.