---
The International Liquid Terminals Association (ILTA) held its 37th Annual International Operating Conference and Trade Show from 12 – 14 June 2017 in Houston, Texas, US.
More than 4250 terminal industry professionals from around the world participated in the event.
On Monday 12 June, Melinda Whitney, ILTA's President, provided opening remarks and noted the association's commitment to delivering first-rate educational programmes to the terminal industry. Whitney said: "With this event, ILTA continues its 37-year tradition of being the most prestigious gathering of terminal professionals in the world […] With more than 70 speakers sharing insights and practical solutions to the biggest issues facing terminal operators, the education available here offers the latest tips, techniques and tools for optimum performance and continued success in the industry."
ILTA's 2017 Featured Speaker, Alex Epstein, author of the New York Times bestseller The Moral Case for Fossil Fuels, discussed the significance of fossil fuels and how reframing every energy conversation around humans flourishing can make a persuasive, moral case for fossil fuels. Epstein examined technologies made possible by fossil fuels, explaining that the negative effects of fossil fuels are many times exaggerated. Breakout sessions during the conference covered a wide variety of topics, including market views, personnel management, due diligence, regulatory audits and government inspections, terminal asset management, stress corrosion cracking, marine terminal operator safety, safety management systems, overfill protection and emergency response.
On Tuesday 13 June, the 11th Annual ILTA Safety Awards Presentation and Breakfast honoured 15 terminal member companies that achieved outstanding safety performance in 2016. All award recipients were identified from among the 48 companies that participated in ILTA's 2017 Survey of Terminal Member Safety Data for 2016.
The 2017 trade show opened on Tuesday afternoon and featured 335 exhibiting companies, including Hydrocarbon Engineering and its supplement, Tanks & Terminals magazine.
The 38th Annual International Operating Conference and Trade Show is scheduled for 11 – 13 June 2018, in Houston, Texas.
Read the article online at: https://www.tanksterminals.com/storage-tanks/03072017/ilta-hosts-annual-conference/
You might also like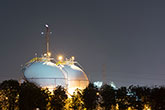 BP and PetroChina have agreed to acquire 2 billion m3/yr of regasification and storage capacity at Gate terminal.