---
Transparency Market Research has released a new market report titled 'Large scale LNG Terminals Market By Technology (Liquefaction and Regasification) and By Site (Onshore and Offshore) - Global Industry Analysis, Size, Share, Growth Trends, and Forecast, 2015 – 2023'. According to this report, the global market volume for large scale LNG terminals stood at 2,684.8 million tpy in 2014 and is expected to reach 4,664.7 million tpy by 2023 at a compound annual growth rate (CAGR) of 2.20% from 2015 - 2023.
Liquefied natural gas (LNG) is one of the most commercially viable energy solutions adopted by developing economies in Asia Pacific to fulfil their energy requirements. The LNG industry has witnessed several technological changes in the past few years.
Increasing investments in large scale and small scale LNG terminals is one such upcoming trend witnessed in the market in recent years. Large scale LNG terminals are primarily designed to focus on the requirements of large demand and supply centres. Natural gas can be transported from gas production centres to consumption centres in the form of LNG through ships and pipelines. Growing demand for LNG in the marine and transportation sectors has provided new opportunities for the large scale LNG sector. Design of LNG terminals is different for both onshore and offshore oilfields, depending upon the surface and sub-surface conditions.
The market for large scale LNG terminals can be segmented geographically into five regions, namely North America, Asia Pacific, Europe, South America, and the Middle East and Africa. Asia Pacific accounted for the largest market share, with 47.26% of total market in terms of throughput, in 2014. Asia Pacific is likely to remain the largest market for large scale LNG terminals throughout forecast period, primarily due to an increasing demand for LNG in the region. North America ranked second in terms of market share, accounting for 19.39% of the global market for large scale LNG terminals in 2014. Rapidly increasing shale gas production in the US is the primary driver of the market growth of large scale LNG liquefaction terminals in North America. The Middle East and Africa are ranked third in the global large scale LNG terminals market in 2014. Increasing consumption of LNG and decreasing production of oil and gas are the major factors which would make Asia Pacific one of the most attractive markets for large scale LNG terminals in the near future.
In the future, construction of LNG terminals is expected to increase gradually as a result of growth in consumption of LNG, especially in Asia Pacific and North America.
Adapted from press release by Francesca Brindle
Read the article online at: https://www.tanksterminals.com/storage-tanks/01042016/market-volume-large-scale-lng-terminals-to-reach-4-billion-by-2023-2918/
You might also like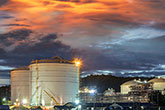 Square Robot is celebrating the launch of a series of in-service storage tank inspections in partnership with the Tennessee Valley Authority (TVA) through the Electric Research Power Institute's (EPRI) Incubatenergy® Labs Cohort program.