---
As a non-destructive testing (NDT) solutions provider, Eddyfi Technologies is committed to investing in product development ultimately leading to a safer world. In 1990, TFT or Tank Floor Scanner was the first Magnetic Flux Leakage (MFL) tool commercially available. Continuous innovations evolved the revolutionary Floormap®X, setting new standards for today's storage tank inspections.
Eddyfi Technologies pushed the boundaries of MFL and proprietary Surface Topology Air-Gap Reluctance Sensors (STARS) technology found in the FloormapX. This powerful multi-technology MFL array scanner enables operators to quickly identify pitting and corrosion from the top and bottom tank floor surface. The system features 128 high-definition MFL array sensors and 64 STARS to find the smallest defects. Besides high-resolution imaging, enhanced signal processing delivers a MFL Signal-to-Noise Ratio (SNR), which means improved detection, lower threshold analysis and no false calls, and therefore minimised prove-up and eliminated erroneous repairs and maintenance.
The FloormapX provides complete tank coverage, including the critical zone. Tank shell wall inspection to within 12 mm. ensures no flaw is left undetected. Operators easily follow the tank curve with motorised steering and a manual dial with an auto-straightening feature. The scanner ergonomics have been carefully considered to accommodate scanning under pipework.
The removable tablet computer is built for field conditions, offers an adjustable angle scanner mount, and is easy to carry. When the MFL inspection is done, you can simply undock the tablet, perform any supplementary NDT, and update the defect listings, all before leaving the tank.
The FloormapX features an adjustable sensor height mechanism to ensure that undulations, lap welds, or support plates will not stop the job from getting done. You can reach maximum sensitivity where conditions allow, and easily raise the bridge to scan in the most challenging conditions.
It offers intuitive ergonomic breaking of the magnet, providing improved dexterity around obstacles and increased efficiency for floor coverage. With the magnet set to full flux mode, a lever system makes it easy to break and reposition the magnet.
It also features front and rear LEDs, providing high and uniform intensity in line with API recommendations for visual inspection. With no setup time required, you can benefit from improved visual inspection of topside corrosion.
Marking the tank floor while mapping is easy with laser assisted defect location. A laser line simulated live in the C-scan allows correlating the physical location of defects with C-scan indications. You can use the interactive laser guide to reposition and accurately mark defects without stopping the workflow; resume the scan and continue inspection.
Being able to control the level of magnetic flux is a key benefit. Simply select the flux level to meet inspection requirements. For 5 - 8 mm. thick tank floors, the low flux setting improves battery consumption, removes drag, and eliminates risk of plate buckling with no effect on data quality. For heavy wall plates up to 18 mm. thick, high flux provides the magnetic force necessary to saturate the thicker material.
A versatile solution that addresses all market needs and leaves no tanks uninspected, the FloormapX empowers faster and more confident decision-making. Learn more at www.eddyfi.com/floormapx.
Read the article online at: https://www.tanksterminals.com/special-reports/05102021/the-role-of-leading-technology-for-revolutionised-tank-floor-inspections/
You might also like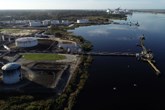 Colonial Terminals, Inc. has announced that it has acquired a terminal in Wilmington, North Carolina, from Buckeye Terminals, LLC.