---
Over 200 companies have signed up to exhibit at StocExpo Europe 2019 affirming its status as the world's biggest platform for the tank terminal industry. These global organisations will come together under one roof at the Ahoy in Rotterdam on 26 – 28 March to showcase the latest industry-leading products and services.
CIRCOR will launch its Houttuin TT™ series along with its Twin-Screw Smart Technology add-on package at the event. CIRCOR manufactures flow and motion control products for the world's most severe-service and mission-critical applications – from valves to instrumentation, actuation to pumps, motors to regulators. The Houttuin twin-screw pumps are designed to help refinery and tank terminal operators optimise unloading and transfer applications. When paired with CIRCOR's Twin-Screw Smart Technology package, the Houttuin TT™ ensures the smoothest transfer of fluid, operating with speed, efficiency and safety with minimal or no operator intervention required. The package automatically adjusts flow to operating conditions in real time, protecting the pump from captivating, while maintaining the highest capacity possible.
Jason Tomei, 2 Screw Product Manager at CIRCOR, explains: "The Houttuin TT™ series is ideal for oil and gas applications. Given that so many of the major players in these industries will be in attendance at StocExpo, the event provides us with a unique opportunity to network with new and existing customers, generate valuable leads and drive the business forward."
MoniTank will launch its underground storage tank risk mitigation system. The product will provide an autonomous end-to-end solution which enables its users to continuously monitor the structural health of tanks. This will enable organisations to predict potential structural integrity threats before they evolve to become problems, such as ruptures, leakages and corrosion. The MoniTank will combine acoustic emission and risk-based inspection techniques, advanced signal processing and data acquisition systems in a single bespoke system enabling an Internet-of-Things approach. Görkem Bayten, project coordinator at MoniTank identifies StocExpo as being a "leading event for the bulk liquid storage industry. Because of this, it is the ideal location to launch our project."
Tom Sadler at Flotech Performance Systems, agrees: "StocExpo provides us with the perfect opportunity to speak with a community of people interested in the tank terminal industry". The provider of engineered products, solutions and services for the storage, transfer and distribution of industrial liquids and gases, will use the event as a platform to launch its FLOBLOCK High Accuracy Additive Injector. The FLOBLOCK is the most advanced additive injection manifold in the market and it integrates with all mainstream load computers, additive controllers, PLC's and Terminal Automation Systems.
McNetiq is launching a new magnetic pipe support which can mount a riser to a storage tank. The McNetiq Controlock® offers a realistic choice for temporary connections as it does not have the disadvantages that come with welding or drilling. The Controlock® is a magnet anchor with a measurable load. It is explosion proof and does not use an external power source – and therefore does not allow any interference. The product saves on scaffold materials and process time, and increases safety factors.
In addition to the great number of new launches, StocExpo will provide a platform for companies to demonstrate their already market-leading innovations. Intertek Caleb Brett will demonstrate its range of services which provide accurate and detailed measurements and calibrations of large petroleum, fuel and chemical cargo storage tanks. HMT LLC will be exhibiting its range of aboveground storage tank solutions, including its primary and secondary seal systems, aluminium full contact floating roofs and emissions reduction devices. Concrete Canvas Ltd. is bringing its CC Hydro to the event. This is the world's first all-in-one armoured impermeable liner for containment applications.
Furthermore, global specialist Sherwin-Williams is presenting its world-leading tank linings package at StocExpo. The company will be highlighting the Sherwin-Williams Difference which has made it the first company to introduce fast return to service (FRTS) linings in the market place, the first to introduce eye safe optical checking and the first to offer 30-year life with a single coat epoxy lining.
Mark Rimmer, StocExpo & Tank Storage Portfolio Divisional Director, concludes: "We are thrilled to announce that a record number of companies will be exhibiting at this year's StocExpo. The event is going to be bigger than ever before. The organisations mentioned here represent just a snapshot of the two hundred plus exhibitors that will be accessible to all visitors on the show floor. If you want to get amongst the latest terminal industry trends, StocExpo Europe 2019 is the place to be."
Read the article online at: https://www.tanksterminals.com/product-news/15032019/over-200-of-the-companies-will-exhibit-at-stocexpo-europe-2019/
You might also like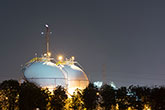 BP and PetroChina have agreed to acquire 2 billion m3/yr of regasification and storage capacity at Gate terminal.