---
Before a single barrel of crude oil is shipped to an awaiting ship at Saudi Aramco's terminal in Ras Tanura, operators must certify the purity of the crude oil in their tanks. Ground level optical water cut (GLOW) is a new technology that allows the water content of a crude oil shipment to be checked in a safe and timely manner.
Traditional methods used for verifying the water content of crude oil in the industry have not changed much over the decades. In most oil terminals globally, an operator is sent to the top of a crude oil tank to lower a depth gauge coated with chemicals that identify how much water rests. Strong winds or rains proved to be a constant challenge, which can lead to costly delays for both the company and its customers.
GLOW allows operators to verify the water content of a crude oil shipment without putting operators at risk. It utilises an optical glass and a series of pipes in a closed looping system, extended into the tank. The system provides the same accuracy with much less risk of exposure to heights and toxic gases. This will reduce the total man-hours by more than 80% over the conventional method.
A series of seven pipes are installed in seven different elevations from the bottom of the tank. When the operator needs to know the water content, he just needs to open a valve to let the fluid from a certain pipe flow into the header where the contents can be viewed through an optical glass.
"The main reason for this technology is safety for the operator," said Shaker M. Al Mahrous, manager of Saudi Aramco's Terminal Operations. "The GLOW device will disrupt the conventional way of performing water cut activity and will reset the industrial standards. This solution eliminates the main cause of incidents in the industry, which is falling from heights.
"And yet, this solution still allows us to provide the verification that our customers need. GLOW allows us to see what water is in the tank in an instant, without the risk to our personnel," he added.
Read the article online at: https://www.tanksterminals.com/product-news/15032018/new-measurement-technology-welcomed-by-saudi-aramco/
You might also like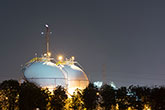 In November CNPC Tangshan LNG Terminal welcomed its 472nd LNG vessel in a 10-year milestone.