---
Black Swan Energy Ltd. has announces that it has entered into a definitive agreement with a subsidiary of AltaGas Ltd., whereby AltaGas will acquire 50% ownership in certain existing and future natural gas processing plants (the Aitken Creek, Canada, processing facilities) of Black Swan.
Black Swan's existing infrastructure is comprised of centralised compression, dehydration, refrigeration and sour gas removal at the North Aitken Gas Plant and includes sales gas lines with connections to Alliance and Enbridge. AltaGas will have the option to participate in two additional plant phases including the potential for enhanced liquids recoveries which could more than double the NGL output of the Aitken Creek processing facilities.
The investment in the Aitken Creek processing facilities by AltaGas includes US$136 million in 2018 and an estimated US$50 million in Q419. The Aitken Creek processing facilities will have an estimated 210 million ft3/d (gross) operational capacity with the potential for future expansions to increase processing capacity up to 360 million ft3/d (gross).
In addition, upon completion of the acquisition, AltaGas and Black Swan will enter into a long-term agreement for the use by Black Swan of the AltaGas processing capacity on a cost of service basis at the Aitken Creek processing facilities, as well as transportation and marketing agreements. Black Swan will continue to operate the Aitken Creek Processing Facilities.
The 50/50 infrastructure joint venture, combined with existing and new AltaGas owned and operated liquids handling infrastructure, will provide a value proposition that includes gas processing, liquids handling, field fractionation and propane export via the AltaGas Ridley Island Propane Export Terminal (RIPET).
Propane delivered to RIPET will receive Far East Index (FEI) pricing and Black Swan retains the option to increase these committed volumes through further plant expansions. FEI prices currently offer a premium to North American propane markets. Black Swan will retain an option to continue to market its butane and condensate products independently.
The long-term processing agreement for the Aitken Creek processing facilities will be underpinned by a reserve dedication and area of mutual interest encompassing approximately 30% of the Black Swan Montney lands, as well as a priority of fill arrangement for AltaGas capacity ownership in the facilities.
The transportation and marketing arrangements will provide Black Swan long term liquids handling through the AltaGas North Pine field fractionation facility, as well as corresponding propane marketing arrangements. The initial term of the commercial arrangements is 15 years (which is subject to customary renewal rights) while also providing an option to expand the various commercial arrangements through additional natural gas processing investments.
The transaction is anticipated to close in early October 2018, subject to satisfaction of customary closing conditions.
Read the article online at: https://www.tanksterminals.com/terminals/27092018/black-swan-enters-ownership-agreement-with-altagas/
You might also like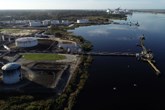 Colonial Terminals, Inc. has announced that it has acquired a terminal in Wilmington, North Carolina, from Buckeye Terminals, LLC.