---
Tallgrass has announced that it has begun a comprehensive reappraisal of plans for commercial development of the proposed Plaquemines Liquids Terminal (PLT), a joint development project with Drexel Hamilton Infrastructure Partners in concert with the Plaquemines Port & Harbor Terminal District (PPHTD) in southeast Louisiana, US.
"Integrity and respect are core Tallgrass values," said Tallgrass CEO, William R. Moler. "As part of our PLT permitting process, our cultural survey work identified a cemetery and potential artefacts consistent with what community members shared about the history of the site. Since then, we reduced our development footprint to protect those areas, and engaged with the Ironton community and other local stakeholders on an appropriate path toward memorialising them."
When PLT and PPHTD entered a lease agreement in 2018 to develop the site, both parties agreed to place a conservation easement on 50 acres adjacent to the historic community of Ironton, Ohio, US. This easement remains in place and permanently protects the area from any future industrial or commercial development by Tallgrass or others.
"We will be withdrawing the current air permit application and Memorandum of Understanding (MoU) with the Coastal Protection and Restoration Authority (CPRA), as they will not reflect the new uses of the site," Moler added. "Tallgrass will continue to work with CPRA to ensure that any future development on the site is consistent with the State's Coastal Master Plan.
"Commercial activity at the site can spur job growth and broader economic opportunity for the local communities in Plaquemines Parish, and we have heard support directly from local community members for that sort of development," said Moler. "We will evaluate a wide range of opportunities other than an oil terminal that can operate within a reduced development footprint at the site. We value the continued support of Governor John Bel Edwards, Plaquemines Parish President Lepine, members of the Parish Council, and the Port. Louisiana has a strong economic development culture, and we look forward to being a part of it."
Read the article online at: https://www.tanksterminals.com/terminals/22112021/tallgrass-releases-development-plan-for-louisiana-based-terminal/
You might also like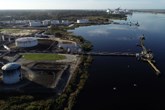 Colonial Terminals, Inc. has announced that it has acquired a terminal in Wilmington, North Carolina, from Buckeye Terminals, LLC.