---
Global LNG regasification capacity is expected to grow by 43% between 2019 and 2023, from 45.7 trillion ft3 to 65.9 trillion ft3, according to GlobalData.
The company's report 'H1 2019 Global Capacity and Capital Expenditure Outlook for LNG Regasification Terminals – Kuwait Petroleum Leads Global Regasification Capacity Additions' reveals that Kuwait Petroleum Corp is expected to lead the global oil and gas companies with the highest new-build LNG regasification capacity additions of 1.2 trillion ft3 by 2023.
Soorya Tejomoortula, Oil & Gas Analyst at GlobalData, comments: "Kuwait Petroleum leads globally due to its 100% equity stake in the Al-Zour terminal in Kuwait, which is expected to start operations in 2021 with a capacity of 1.2 trillion ft3. The terminal has a total new-build CAPEX of US$3.6 billion. Kuwait Integrated Petroleum Industries Co. is the operator of the terminal."
In terms of new-build CAPEX, China National Offshore Oil Corp. has the highest new-build CAPEX of US$4.7 billion to be spent on new-build regasification projects in the outlook period. Shandong Hanas New Energy Co. Ltd and Kuwait Petroleum Corp. follow with US$2.9 billion and US$2.7 billion, respectively.
Among regions, Asia is expected to add the highest regasification capacity of 12.6 trillion ft3 by 2023. Within the region, India plans to add the highest capacity of around 4.3 trillion ft3 by 2023. In terms of new-build CAPEX, India stands third with US$4.9 billion over the next four years.
GlobalData identifies Europe as the second highest among the regions in terms of LNG regasification capacity additions. 11 countries in the region are expected to add 2.4 trillion ft3 of planned capacity by 2023. Within the region, Germany, Croatia and Ireland are expected to be the major contributors with capacity additions of 0.52 trillion ft3, 0.30 trillion ft3 and 0.29 trillion ft3, respectively. The region plans to spend around US$6 billion on the upcoming terminals, between 2019 and 2023.
The Middle East is the third highest region in terms of regasification capacity additions. It is expected to add approximately 2.4 trillion ft3 by 2023. Within the region, Kuwait has the highest planned capacity of approximately 1.2 trillion ft3 by 2023. CAPEX to be spent by Kuwait during the forecast period is US$2.7 billion.
Read the article online at: https://www.tanksterminals.com/terminals/19022019/lng-regasification-capacity-to-grow/
You might also like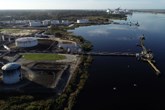 Colonial Terminals, Inc. has announced that it has acquired a terminal in Wilmington, North Carolina, from Buckeye Terminals, LLC.