---
Horisont Energi and Koole Terminals B.V have signed a non-binding memorandum of understanding (MOU) to continue collaborating on exploration of the potential development of a European carbon capture and storage (CCS) value chain.
It has been the intention of the parties to develop and market Gismarvik, Norway's largest planned CO2 import terminal, with volumes anticipated to flow from a new CO2 export terminal which Koole Terminals is exploring in Rotterdam and various other countries.
The MOU has set out the intention of the parties to develop CO2 import and export terminals in continental Europe, including a potential Koole Terminals CO2 terminal in Rotterdam as a part of a larger logistics solution for CO2 and clean ammonia. Koole Terminals is one of the current operators in storage, processing, and logistics in Rotterdam and other European ports.
The potential Koole Terminals CO2 terminal in the Port of Rotterdam would be connected to the planned Delta Rhine Corridor CO2 pipeline, allowing volumes to be gathered from several places on the continent, and shipped to carbon storage terminals like the Gismarvik CO2 Terminal in Norway. A potential Koole Terminals CO2 Terminal in Rotterdam could have an intermediate CO2 storage capacity of up to 200 000 t of CO2, accommodating transport of multi-millions of tons of CO2 to carbon storage annually.
The MOU envisages that Horisont Energi and Koole Terminals will continue to explore the joint marketing and development of a CO2 terminal at Gismarvik with volumes transported from Koole Terminals' planned CO2 export terminal in Rotterdam and other European countries, as part of a European CCS value chain.
The intention for a Gismarvik CO2 terminal is to become an injection hub for CO2 before permanent storage at Horisont Energi's or at other carbon storage locations on the Norwegian continental shelf. With an anticipated annual capacity of 20 - 24 million t, following design maturation and development, the Gismarvik CO2 terminal has the potential to function as intermedia storage for several CO2 storage projects. A fit-for-purpose CO2 injection solution and system design has already been developed for the offshore part. Horisont Energi has developed plans and started permitting for such a terminal covering offloading from ships, temporary storage, process, and compression prior to pipeline transport to subsea reservoirs for sequestration.
Horisont Energi and Koole Terminals also expect to explore certification solutions to develop fully auditable co-mingled inventory control, emission certification, traceability management, and trading solutions for CO2.
Horisont Energi and Koole Terminals extended the scope of cooperation to cover clean ammonia in December 2022. The Parties share common values and are strongly committed to working towards sustainability, decarbonisation, and the fundamental role of clean energy.
Read the article online at: https://www.tanksterminals.com/terminals/15112023/horisont-energi-and-koole-terminals-have-discussed-a-potential-cooperation/
You might also like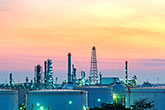 Proton Ventures was awarded FEED by Vesta Terminals for the first independent ammonia terminal of North-West Europe.