---
According to CEDIGAZ's 'First Estimates 2018', global gas consumption is estimated to have increased by 4.7% to 3850 billion m3, its fastest growth since 2010, when demand rebounded after the financial crisis.
Year 2018 marked the second consecutive year of strong growth for natural gas demand, which was driven by a combination of economic growth, growing energy demand, coal displacement, improving infrastructure and weather-related energy needs. The US and China were the two main contributors to this increase.
After rising by 3.5% in 2017, natural gas consumption pursued its acceleration in 2018, surging by 4.7% to reach a new record of 3850 billion m3, according to CEDIGAZ. As in 2017, natural gas was the fastest-growing fossil fuel and increased its share in the global energy mix to the detriment of coal.
A large part of the global growth in gas demand was explained by the US (+ 80 billion m3), which posted an exceptional performance in 2018. Extreme cold winter and hot summer led to high electricity load and residential consumption in the country. 2018 was also the second year of the growth spurt in gas demand in China, with natural gas consumption rising by more than 17%. Natural gas consumption was also well above-average in Russia and the Middle East.
On the supply side, global production rose 4.9% to an all-time high of 3857 billion m3, with strong contribution from natural gas-rich regions. One of the biggest story in 2018 was the remarkable jump in US gas production (+ 11.5%), which accounted for almost half of the global increase, followed by the Middle East and Russia, where gas production reached historic highs. Europe was the only region that saw substantial reduction in output in 2018 (- 5.2%). The US was thus the standout performer in 2018, accounting for almost half of the global increase in both the consumption and production of natural gas.
In line with growing production, international trade (net flows) has also experienced a robust growth, up 3.7% to 973 billion m3, against the background of increased global LNG export capacity. International gas trade was propped up by LNG and China. This latter has become the leading net natural gas importer, ahead of Japan, absorbing alone more than 80% of the global growth in imports. In 2018, the expansion of the international trade mainly came from net inter-regional flows (long-distance transportation to accommodate market needs in Europe and Asia), which jumped 11% to almost 500 billion m3.
LNG trade pursued its strong expansion wave in 2018, up 8.7% to 415 billion m3, although at a slower pace than in 2017 (+ 10.5%). The growth of international pipeline trade slowed strongly after two buoyant years, in response to reduced European gas needs and also smaller exchanges between Canada and the US. International pipeline trade (net flows) grew at a modest rate of 0.3% to 572 billion m3 in 2018.
Natural gas prices rebounded in key markets in 2018. The increase in gas prices in 2018 is part of a general context of strong growth in energy demand and rising prices for all fossil fuels. The LNG market tightened in the first three quarters before loosening in the last quarter, when a surplus of LNG supply combined with lower-than-expected Asian LNG demand led to massive LNG inflows to Europe and plummeting prices. In a context of surging LNG supply and rising spot trading, gas markets continue to globalise with LNG heading towards commoditisation.
Read the article online at: https://www.tanksterminals.com/terminals/13052019/cedigaz-releases-its-first-estimates-for-gas-in-2018/
You might also like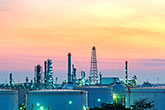 Proton Ventures was awarded FEED by Vesta Terminals for the first independent ammonia terminal of North-West Europe.