---
Prostar Capital (Prostar) has announced that it has secured US$15 million in co-investment capital from an institutional infrastructure investor, building on a previous commitment from the investor. The co-investment capital will support ongoing efforts to expand and upgrade operations at Prostar's GTI Statia (GTIS) storage terminal, located on the Dutch Caribbean island of St. Eustatius. As a result, the investor will acquire a minority stake in GTIS.
Prostar intends for the secured capital to help accelerate the US$100 million investment programme, first announced in March 2020, to improve the GTIS facility over the next two years. The improvements planned by Prostar include tank refurbishments, marine infrastructure upgrades, and other terminal improvements. It is hoped that these developments will allow GTIS to continue to operate at the highest safety standards while providing service for new and existing customers. Prostar and GTI Statia intend to increase the in-service capacity at the terminal to attract several new customers.
The plan aims to improve the facility's flexibility, a critical factor for storage operators, by enabling the transition to low-sulfur marine fuel as dictated by the IMO 2020 regulations. The investment is also expected to increase the demand for local skilled labour and to attract a key workforce to the island in order to optimise the terminal.
"We are excited to receive this ongoing support from our investors as we embark on a shared vision to enhance the performance of GTI Statia's existing infrastructure and attract new, global long-term customers that recognise the strategic value of this terminal in the global energy trading value chain," said Steve Bickerton, Senior Managing Director of Prostar Capital.
"This is a continuation of the capital improvement plan we put in place earlier this year," said John Roller, President and CEO of GTI Statia. "We are incredibly proud of the work we are doing with Prostar and our investors to add value to this terminal and transform it into an unparalleled facility to better serve the industry, our customers and the Statia community."
Read the article online at: https://www.tanksterminals.com/terminals/12112020/prostar-secures-investment-for-gti-statia-storage-terminal-development/
You might also like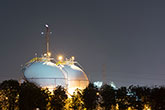 In November CNPC Tangshan LNG Terminal welcomed its 472nd LNG vessel in a 10-year milestone.