---
Implico has developed a new solution for the tank terminal operator Evos, which will use a digital connection to the Hamburg Port Authority (HPA).
Via a new interface to a cloud communication service, the tank terminal and the HPA now exchange train data fully automatically, meaning that manual entry and transfer by employees is no longer necessary.
The Evos terminal handles thousands of railcars every year, ensuring the rail-based supply of various hydrocarbon products from different refineries and terminals. Until now, an incoming freight train meant a lot of manual work for the Evos team. The employees had to record each arriving railcar by hand, including the associated master data. Based on this information, they generated the required unloading order. This process was both time-consuming and error-prone. Now that the HPA and the terminal management system OpenTAS 'Blue Edition' used by Evos are connected, the terminal operators receive all information about incoming freight trains in advance. The data is imported into the system via an interface and the unloading order is generated automatically.
To further digitalise the remaining safety check of the railcars, Evos has planned the introduction of additional mobile devices. These handhelds will be integrated into the terminal management system. They allow the terminal crew to check the railcars directly and digitally – from the master data to the sequence of the wagons to the visual security inspection via checklist. This increases safety as the employees cannot overlook anything. In addition, the use of handhelds eliminates redundant tasks and supports the field staff optimally with state-of-the-art technology. Consequently, it makes the process much more efficient.
Sebastian Palandt, Manager IT and OT at Evos Hamburg, explains: "With the new interface and the planned handhelds, we take a big step towards the further digitalisation of our processes. For the deliveries that reach us by rail, we now receive all relevant information in advance – be it the actual wagon data, the order data or the details of the products loaded. Furthermore, the usage of mobile devices directly on site at the train significantly increases the level of transparency and security".
The data exchange between the HPA system TransPORTRail and the terminal management system OpenTAS used by Evos is carried out via the innovative web service 'iGOS Data Exchange' from Implico. In the implementation of the project, the experts used many innovations, such as the state-of-the-art cloud technologies Docker and Kubernetes.
Read the article online at: https://www.tanksterminals.com/terminals/01052020/implico-delivers-solution-for-evos-terminal/
You might also like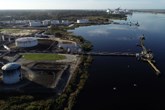 Colonial Terminals, Inc. has announced that it has acquired a terminal in Wilmington, North Carolina, from Buckeye Terminals, LLC.