---
Corrosion Inhibitors has analysed US demand for corrosion inhibitors. It presents historical demand data (2005, 2010 and 2015) plus forecasts (2020 and 2025) by application (process and product additives, water treatment), market (e.g., utilities, petroleum refining, chemicals, pulp and paper, metals, oil and gas production, other) and product (organics, molybdates, nitrites, phosphates, phosphonates, silicates, other). The study also assesses key market environment factors, examines industry structure, evaluates company market share and profiles 37 US industry players such as Ashland, Chemtura, Ecolab, GE and Lubrizol.
Demand impacted by water use
The corrosion inhibitor industry is being impacted by a number of changes. For water treatment applications, key issues include increased water recycling, the use of lower quality water in cooling systems, operating under higher temperatures and at greater cycles of concentration, and the need for compatibility with other water treatment chemicals. As a result, users are increasingly selecting more advanced, multifunctional products that can minimise corrosion and extend equipment lifetimes in such challenging environments.
Environmental concerns influencing trends
According to Corrosion Inhibitors and a new study from The Freedonia Group, a further concern affecting the industry is the environmental impact of corrosion inhibitors, particularly in wastewater. End users are continuing to shift toward less toxic products that do not contain metals and can be discharged without causing eutrophication, aquatic toxicity, or other harmful effects on the environment. Similarly, corrosion inhibitors used as product additives are increasingly required to provide higher performance, allowing for longer product lifetimes while reducing volatile organic compound (VOC) emissions and other negative impacts on human health and the environment.
Organic inhibitors largest product segment
Freedonia predicts that because of the greater challenges placed on corrosion inhibitors, water treatment companies and other suppliers will continue having success with higher value products that integrate multifunctional additives and protect equipment in challenging operating conditions. As a result of these trends, organic inhibitors are the largest product segment in the industry and will continue to grow at the fastest pace in volume terms, gaining market share at the expense of other product types. Organic inhibitors are often less toxic than corrosion inhibitors that contain metals, and frequently of lesser concern when discharged in wastewater. The use of higher value organic inhibitors is central to many high performance water treatment chemical programmes and product additive packages.
Oil price fluctuations drive growth
The oil and gas industry became one of the largest markets for the industry's products prior to the collapse of oil prices in 2014 and 2015, and as oil prices eventually recover, this market will again see above average growth relative to its 2015 base.
You can access the full report here
Adapted from press release by Francesca Brindle
Read the article online at: https://www.tanksterminals.com/storage-tanks/30062016/us-corrosion-inhibitors-market-freedonia-group-data-3617/
You might also like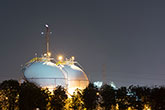 BP and PetroChina have agreed to acquire 2 billion m3/yr of regasification and storage capacity at Gate terminal.