---
The CLH Group has invested nearly €23 million in research, development and innovation (RDI) projects over the last three years with the aim of reinforcing the efficiency, safety and sustainability of its activities and boosting service quality.
The company is working towards improving efficiency in internal processes in order to optimise tasks, applying methodologies such as LEAN and 6-SIGMA, and has created a dedicated organisational unit for these duties.
Moreover, the CLH Group continues to promote the implementation of the latest technologies and is currently digitising and automating its facilities, thus bolstering the speed, reliability and safety of its operations.
The company is also designing a new integrated asset management system, incorporating predictive maintenance criteria and asset health strategies based on criticality analyses and big data. This new management plan analyses all the assets and enables the company to define predictive models in order to establish optimum protocols for maintaining each piece of equipment, rendering them more efficient, precise and aligned with their relevance in CLH operations.
In addition, CLH has started the implementation of mobile devices with a dedicated application for managing maintenance at facilities and outlying maintenance centres. The use of artificial intelligence and image comparison tools is being analysed at the moment for reviewing the pipeline route.
During 2018, CLH also carried out other unique projects, such as research for prevention of microbiological contamination in aviation fuel. This project is financed by the EU within the H2020 programme.
Furthermore, the company is re-engineering its logistics processes and supporting applications to provide better service to its customers and meet the requirements of stakeholders such as the public administration.
The RDI projects are certified by companies that are accredited for such purposes. Among other projects, the company has launched 'Predilinea', in which a model is being created to measure the properties of gasoline and other fuels through infrared spectroscopy; and the PIMS initiative, aimed at developing an advanced system for analysing the status of the CLH pipeline network and preventing mishaps by establishing specific processes and inspections of geo-localised sections.
In addition, CLH participates in assessment projects for new fuels from alternatives sources (biomass, waste, etc.)
In 2018, CLH has continued to work on RDI regarding environmental management matters through projects aimed at treating and cleaning water based on the use of bio-absorbent materials. Similarly, CLH continues to cooperate with the University of Granada on a project for the treatment of waste water using biological processes.
The company has also consolidated a bio-remediation project via the use of hydrocarbon degrading microorganisms in soil remediation work.
Read the article online at: https://www.tanksterminals.com/storage-tanks/29082019/clh-group-invests-close-to-23-million-in-rdi-projects-over-three-years/
You might also like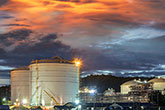 Square Robot is celebrating the launch of a series of in-service storage tank inspections in partnership with the Tennessee Valley Authority (TVA) through the Electric Research Power Institute's (EPRI) Incubatenergy® Labs Cohort program.