---
Tank Storage Germany 2016 closed its doors to its most successful show yet, with high quality buyers conducting business on the show floor with an array of leading suppliers from Germany and beyond.
The conference and exhibition, which took place at the Hamburg Messe on 16 - 17 November, reported a record number of senior level tank storage professionals in attendance. These included terminal managers, CEOs, managing directors, senior engineers and investors from BP GmbH, Shell Deutschland, Vopak, Varo Energy, TanQuid, Oiltanking, Inter Terminals, Hamburg Port Authority, TankPort B.V. and many more oil majors and terminals from across the region, resulting in more deals being done on the show floor than ever before.
Exhibitor Joachim Toffolo, Market Sales Manager at Auma Riester GmbH, commented: "It's quality that really makes the difference and we had a lot of senior level contacts to our stand."
Claus Polens, Head of OpenTAS Consulting at Implico Group, agreed: "Tank Storage Germany 2016 was again a very successful get together of the tank terminal industry in Germany and beyond. For us at Implico this event is another good opportunity to meet face to face with our customers and partner companies here in our hometown of Hamburg. It is always a great chance to get new inspiring ideas for our terminal automation software."
Many of the suppliers exhibiting at the show used the event to launch new products to the German bulk liquid storage sector. This undoubtedly played an important part in attracting the many senior decision makers and buyers to the show. Alec Keeler, Managing Director at Loadtec commented, "We brought solutions that the German market needs and those fortunate to attend recognised that and showed their appreciation."
Visitor to the show, Kevin Alex, Procurement Manager at Shell Deutschland Oil GMBH commented, "I regularly visit Tank Storage Germany, I think it's a great fit for the oil & gas industry with a wide range of known suppliers and a great opportunity to meet new ones."
Harald Junghans, Project Manager at Stadler Schaaf, agreed, "Tank Storage Germany is very industry focused. We attended the show to find new products and contacts and found we were able to have much better discussions face to face than over the phone."
In addition to an exhibition floor full of innovation, the Tank Storage Germany conference provided visitors with hours of educational and highly practical content, from a series of world class names, which included JP Morgan, Deloitte, Vopak Terminal Hamburg, TanQuid and McKinsey & Company. These expert sessions covered everything from the latest global and local issues through to industry developments, and trends affecting the German bulk liquid storage sector.
Delegate, Christian Ulte, Market Research at the Port of Hamburg, commented on the success of the educational sessions: "The Tank Storage Germany conference programme covered an interesting and wide range of topics, which were very helpful to us and our business."
Nick Powell, Event Director of the Easyfairs' StocExpo and Tank Storage Events Portfolio, concluded: "The feedback from our visitors and suppliers has been phenomenal. With more deals happening live on the show floor than ever before, it is no wonder that everyone is happy. The level of quality visitor we attracted created a fantastic buzz around the show, which we are obviously thrilled about.
"However, most importantly those visitors told us that they got a huge amount from our event too, which was reflected by a 97% satisfaction rate. They met, networked with and learned from top quality suppliers and tank storage leaders, who they might otherwise struggle to meet. They also commented that more exhibitors than ever before appeared to be using the show to launch new products, underscoring how important it has become. In essence, Tank Storage Germany worked for the whole tank storage industry in the region and we're absolutely committed to ensuring that the 2017 event builds on this success."
The next edition of Tank Storage Germany takes place on 29 - 30 November 2017 at the Hamburg Messe. To find out more please visit www.tankstoragegermany.com.
Read the article online at: https://www.tanksterminals.com/storage-tanks/28112016/deals-delivered-at-tank-storage-germany-2016/
You might also like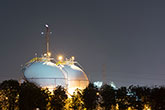 BP and PetroChina have agreed to acquire 2 billion m3/yr of regasification and storage capacity at Gate terminal.