---
According to a white paper authored by Robert D'Orazio, Senior Engineer for Linde LLC, cryogenic cooling, or cryo-condensation, may be the most cost effective method for minimising volatile organic chemical (VOC) emissions from solvent and hydrocarbon storage tanks and manufacturing processes when certain conditions exist. Cryo-condensation is a relatively simple process of using the cold from vapourising nitrogen to condense organic compounds exiting through a vent or in a process gas stream.
In the white paper, titled 'Low Cost Method for VOC Emission Control Utilising Cryogenic Condensation', D'Orazio points out many chemical plants, oilseed processing plants, tank farms and terminals already have liquid nitrogen onsite, which is vapourised to gaseous nitrogen for blanketing, purging, pressure transfer and other uses. "The Linde VOC control system simply uses the cold from liquid nitrogen to control VOC emissions from storage tanks, then returns the nitrogen as a gas to the processes," D'Orazio says.
"The VOC control system is modular, so it is cost efficient and easy to implement," D'Orazio says. "The savings can be even greater when the system is used to recapture high value products such as hexane from supply and vent lines," D'Orazio said. It can also be ideal for chemical plants or storage terminals that must handle increasing levels of volatile emissions due to expansion, providing an economical alternative to thermal oxidation or adsorption.
The white paper provides details on the conditions and requirements that make cryo-condensation practice competitive compared with adsorption or thermal oxidation, and when it is not. Conditions affecting the decision include concentration effects, blanketing and tank use patterns, fixed versus floating roof, and stored material considerations, such as single component versus mixtures, product value and potential re-use and compliance effects.
Read the full white paper here.
Adapted from press release by Francesca Brindle
Read the article online at: https://www.tanksterminals.com/storage-tanks/21062016/linde-release-white-paper-on-cryo-condensation-for-voc-emissions-reduction-3550/
You might also like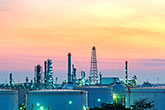 Proton Ventures was awarded FEED by Vesta Terminals for the first independent ammonia terminal of North-West Europe.