---
The Energy & Environmental Research Centre (EERC), a worldwide leader in the development of solutions to energy and environmental challenges, has announced it is working with the Department of Energy (DOE) National Energy Technology Laboratory (NETL) and Hitachi High Technologies America, Inc., to improve assessment methods for estimating the storage capacity of carbon dioxide (CO2) in tight shale formations, such as the Bakken. The project is funded by NETL with cost share provided by Hitachi.
"Although significant progress has been made globally to investigate the suitability of subsurface geologic sinks for CO2 storage, there is a lack of detailed geologic and petrophysical data needed to develop better techniques for assessing CO2 storage resources within unconventional formations," said Bethany Kurz, EERC Principal Hydrogeologist, Laboratory Analysis Group Lead.
EERC researchers will develop advanced analytical techniques to better understand and quantify the distribution of clay minerals, organics, pore networks, and fractures in representative shale and tight rock samples. The analytical methods will be developed using imagery collected from a field emission scanning electron microscope (FESEM), which provides the high resolution images necessary for detection and characterisation of the formation.
Project participant and co-sponsor Hitachi High Technologies America, Inc., will work alongside the EERC to improve the data processing and image analysis within the FESEM software.
"We are so pleased to be working with Hitachi on this project," continued Kurz. "One of the key challenges in estimating CO2 storage capacity in organic rich shale is that the analytical equipment and methods used to evaluate conventional reservoirs are limited when applied to shales that require analysis at such a small scale. Hitatchi's technology and image analysis expertise will greatly improve our ability to efficiently identify and quantify key features of interest within the shales and other tight rocks."
"Working with the EERC offers an exciting opportunity to utilise and develop Hitachi electron imaging technologies for the advanced characterisation of unconventional reservoirs," said Chad Ostrander, VP/GM of Hitachi High-Technologies Canada, Inc. "The potential technology improvements offer both environmental and economic benefits on a global scale, and Hitachi is pleased to be part of this initiative."
The effects of CO2 exposure on shale samples will also be analysed by scientists at NETL's CT Scanning Lab in Morgantown, West Virginia. NETL staff will also be involved to ensure that the project supports the goals of the Carbon Storage Programme, which aims to improve the ability to predict CO2 storage capacity in geologic formations to within ±30%.
Adapted from press release by Francesca Brindle
Read the article online at: https://www.tanksterminals.com/storage-tanks/20092016/netl-eerc-hitachi-commit-to-co2-storage-in-geologic-formations-4113/
You might also like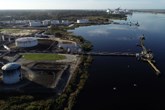 Colonial Terminals, Inc. has announced that it has acquired a terminal in Wilmington, North Carolina, from Buckeye Terminals, LLC.