---
Low sulfur fuels held in storage and used in the maritime world are still at risk from five key issues, which is further exacerbated due to the lockdowns and restricted trade leading to longer storage periods, according to Aderco.
The International Maritime Organization's (IMO) low sulfur fuel cap introduced in January 2020 has not eradicated the potential threats from cat fines, sludge, compatibility issues, asphaltene and stability, and this is becoming even more important with fuel that can degrade over long periods in storage as we are currently experiencing.
Aderco has released a new report 'VLSFO Fuel Guide: How Aderco 2055G improves the five key fuel oil issues' which highlights the five key issues that are particularly detrimental to fuel held in storage tanks.
The report has been released following a series of tests conducted in both Belgium and Singapore. These tests, carried out over the past few months on low sulfur fuels, have demonstrated that Aderco 2055G helps to reduce fuel incompatibility within storage tanks, preventing sludging and easing filtration, purification and injection.
Olivier Baiwir, CEO of Aderco, says the latest report demonstrates the overall benefits of using fuel treatment technology in these key issues of concern. He said: "The new low sulfur fuels are still prone to the five issues that can cause not only degradation but also the instability of stored fuel. The tests we have conducted with our own fuel treatments prove that the damaging issues of cat fines, sludge, corrosion, contamination and fuel stability can be reduced and eliminated with a fuel treatment.
"Furthermore, we have found that reducing the sulfur content in ULSMGO fuels can see a marked increase in microbial growth that has the possibility to generate corrosive reactions. The use of biodiesel in the blending process can generate a high water content which is the ideal breeding ground for bacteria and this poses a real risk in stored fuel. However, by using a fuel treatment, this eradicates any biological damage.
"Bulk fuels are at risk from oxidation, emulsions, bacterial and fungal infestations resulting in serious fuel instability and we know these issues have not disappeared with the introduction of the new blended fuels in 2020. By using a fuel treatment any stored fuel can be treated for sludge which is one of the main causes of blocked filters and pipes resulting in unpumpable sludge at the bottom of storage tanks."
Read the article online at: https://www.tanksterminals.com/storage-tanks/18062020/key-fuel-issues-need-treatment-in-storage/
You might also like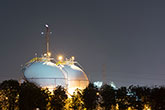 BP and PetroChina have agreed to acquire 2 billion m3/yr of regasification and storage capacity at Gate terminal.