---
A new study into microbial activity when hydrogen is injected into potential underground storage sites has generated valuable findings as to where the gas could be stored in future.
There have been concerns that injecting hydrogen into subsurface porous media could stimulate enough microbial activity to consume significant volumes of hydrogen, decrease injection and recovery of the gas (by clogging pores with microbial cells and excretions) and cause corrosion of metal infrastructure.
The study found that the majority of sites – 37 out of the 42 examined – are at risk of microbial effects. However, despite significant microbial growth potential in these sites, microbial hydrogen consumption is likely to be "negligible to small".
Hydrogen can alleviate a key drawback of renewable energy generation – its intermittency. However, this requires suitable temporary storage sites. Excess renewable energy can be converted to hydrogen through electrolysis (so-called 'green hydrogen'), stored and then drawn down and turned back into electricity during periods of high energy demand.
The paper, published in Renewable and Sustainable Energy Reviews, was written jointly by scientists from the University of Edinburgh and Clausthal University of Technology, Germany. The Edinburgh researchers are part of the HyStorPor project, which is examining the feasibility of storing hydrogen in UK reservoir rocks as a means of accelerating its deployment.
The study outlines environmental controls to the growth of hydrogen-consuming microorganisms in selected depleted gas and oil fields in the British and Norwegian North Sea and the Irish Sea. Five of the 42 fields were found to have environmental conditions that impede microbial growth and are hence most suitable for hydrogen storage.
"It was great to collaborate with Clausthal University to create a large dataset on the tolerance of major groups of hydrogen-oxidising microorganisms to crucial environmental parameters. Using real-life depleted gas and oilfields we were able to elucidate where microbial growth is possible and which fields are sterile and hence very suitable for hydrogen storage," said Eike Marie Thaysen, Technical Research Assistant at HyStorPor at the time of the study.
"Climate change is an urgent global problem and collaboration with international colleagues is really important to promote the implementation of hydrogen storage in porous media and help mitigate carbon emissions."
The study suggests:/p>
Depleted oil and gas fields with temperatures of more than 122°C can be considered sterile to microbial growth. Five out of 42 selected depleted gas and oil fields in the study fulfil this criteria.
The risk for microbial growth is reduced at extreme salinities but an upper salinity limit for microbial growth has not yet been defined.
Depleted oil and gas fields with low salinity, low temperature and close to neutral pH are likely to host substantial microbial growth.
The associated microbial hydrogen consumption in fields with favourable environmental conditions is estimated to constitute a negligible to small percentage of the stored hydrogen (<0.01-3.2 %).
"This study highlights that geological storage of hydrogen at high temperatures above 122°C omits the risk for adverse microbial effects. It also indicates that there are no showstoppers for hydrogen storage in porous media with respect to microbial consumption of the stored hydrogen in fields with favourable growth conditions," Eike Marie Thaysen added.
"However, our findings need confirmation by laboratory and field experiments on microbial hydrogen consumption at high hydrogen pressures."
As hydrogen storage in porous media in the UK moves closer to reality, studies such as these provide important data to guide site development.
"The collaboration with the University of Edinburgh is an excellent example of interdisciplinary work between reservoir engineering and microbial science, which is necessary to solve upcoming issues for underground hydrogen storage in porous media," said co-author Gion Joel Strobel, Reservoir Project Manager at Clausthal University. "The storage of hydrogen could be a key factor in the hydrogen-based economy, which could help reduce carbon emissions in carbon-heavy industries."
"The resulting data set can identify suitable storage reservoirs worldwide and can be used to estimate the loss of hydrogen by microbes during the storage operations. The favourable growth conditions and the overview of growth parameters for different species, in particular, are urgent for modelling the biochemical processes in the porous media."
Read the article online at: https://www.tanksterminals.com/storage-tanks/17082021/new-study-allays-hydrogen-storage-concerns/
You might also like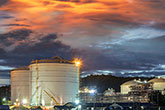 Square Robot is celebrating the launch of a series of in-service storage tank inspections in partnership with the Tennessee Valley Authority (TVA) through the Electric Research Power Institute's (EPRI) Incubatenergy® Labs Cohort program.