---
On 13 September, the US Environmental Protection Agency reached a settlement with General Petroleum Corporation to resolve federal Clean Water Act violations at its petroleum storage facility located on Terminal Island in the Port of Los Angeles, California. The company will pay a US$15 500 penalty as part of the agreement, and has already come into compliance with the law.
"Spill prevention is a key planning element for oil storage facilities, especially those located near California's precious waterways," said Kathleen Johnson, Director of the Enforcement Division in EPA's Pacific Southwest Region. "To reduce the risk to San Pedro Bay, we have been working with our state and local partners to ensure the deficiencies were all addressed."
Today's action is a result of a joint inspection conducted by EPA and representatives of the Los Angeles Fire Department in April 2015. The investigation found that General Petroleum had violated regulations requiring onshore oil production facilities at risk of discharging oil to nearby waterways to prepare and implement a Spill Prevention, Control, and Countermeasure (SPCC) plan.
"This enforcement action, taken in partnership with the US EPA, was needed to not only protect the City's environment but to also protect the health and safety of the City's residents," said LAFD Fire Marshal, Chief John Vidovich, who oversees the program responsible for inspecting and enforcing environmental compliance at this type of facility.
General Petroleum is located within the Port of Los Angeles adjacent to the Los Angeles Harbour. The company had not provided adequate secondary containment around tanks to keep spilled oil from leaving the site and entering surrounding waters. The company also had not amended and re-certified its SPCC plan after making significant physical changes to its facility, and did not maintain and implement an SPCC plan that discusses discharge or drainage controls, and procedures for the control of a potential discharge.
The goal of EPA's SPCC regulation is to prevent oil from reaching navigable waters and adjoining shorelines, and to plan for containment of oil discharges in the event of a spill. The regulation requires onshore oil storage facilities to develop and implement SPCC Plans and to establish procedures, methods, and equipment to prevent spills, and to respond properly if a spill occurs.
Adapted from press release by Rosalie Starling
Read the article online at: https://www.tanksterminals.com/storage-tanks/15092016/epa-requires-la-oil-storage-facility-to-reduce-risk-of-spills-4090/
You might also like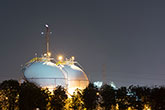 BP and PetroChina have agreed to acquire 2 billion m3/yr of regasification and storage capacity at Gate terminal.