---
At StocExpo 2016 (15-17 March), Outokumpu is to present its highly efficient materials for industrial tanks, including the Forta Duplex grades for large industrial tanks and Supra 316plus for the construction of logistics tanks.
Forta Duplex stainless steel – a cost-efficient solution
"Especially in the case of large storage tanks measuring several dozen meters in diameter and height, even small changes in the design and material selection can significantly reduce the investment costs associated with new facilities," explained Erik Stark, Market Development Engineer at Outokumpu.
"The particular properties of Outokumpu's Forta Duplex stainless steels offer new savings potential to the manufacturers of tanks for foodstuffs, wine and other industrial goods, not only in material costs, but also in production and lifecycle costs." Duplex grades have higher mechanical strength than carbon steels, meaning storage tanks can be made with reduced wall thicknesses, which can deliver weight savings of up to 50% in the lower tank sections. As well as the purely material costs, there are further price benefits to be gained in tank assembly, as thinner walls also mean less welding work. Plus, there is no need for elaborate surface treatments and painting, as Duplex grades are highly corrosion resistant even without surface protection, and meet the hygiene requirements of the food and drinks industry. "The initial investment costs for storage tanks made from Duplex stainless steels can thus be reduced by more than 10% compared with conventional materials," concluded Stark.
Supra 316plus
Outokumpu's Supra 316plus grade has increased properties compared to standard 316. The increased strength and higher corrosion resistance compared to 316 as well as its austenitic structure make it particularly well-suited for the construction of transportation tanks in logistics applications and for cryogenic applications. Thanks to its special composition, it can be used to make thinner and therefore lightweight tanks compared to regular 316. Plus, the material is available at competitive pricing.
The specific characteristics of Outokumpu materials are advantageous even decades later: "Storage tanks made from these materials are extremely durable, thanks to their outstanding corrosion resistance. Maintenance and repair work, as well as cost-intensive repainting work with its associated operational downtime, are reduced to virtually zero. And the grades are also easier to clean," explained Stark. Overall, the lifecycle costs of such tanks can be reduced to an absolute minimum.
The stainless steels are of further benefit when compared with other materials when it comes to sustainability as they are 100% recyclable.
Edited from press release by Angharad Lock
Read the article online at: https://www.tanksterminals.com/storage-tanks/15032016/outokumpu-demonstrates-stainless-steel-solutions-at-stocexpo-2763/
You might also like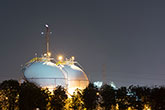 BP and PetroChina have agreed to acquire 2 billion m3/yr of regasification and storage capacity at Gate terminal.