---
On 11 February, Southern California Gas Co. (SoCalGas) announced that it temporarily had controlled the flow of natural gas at the leaking well at its Aliso Canyon storage facility outside Los Angeles. It will continue to work in coordination with the California Division of Oil, Gas and Geothermal Resources (DOGGR) and other agencies during the process of permanently sealing the well.
On 4 December 2015, SoCalGas commenced drilling a relief well to stop the natural gas leak by plugging the leaking well at its base. On 11 February 2016, the relief well intercepted the base of the leaking well, and the company began pumping heavy fluids to temporarily control the flow of gas out of the leaking well. DOGGR officials and representatives from other state and local agencies were at the site to observe the operation. The leak and the flow of gas will be declared ended once DOGGR has confirmed that the well has been permanently sealed.
"We have temporarily controlled the natural gas flow from the leaking well and begun the process of sealing the well and permanently stopping the leak," said Jimmie Cho, SoCalGas Senior Vice President of Gas Operations and System Integrity, and SoCalGas Incident Commander.
While this is a positive development, cement will need to be injected from the relief well into the leaking well at its base in order to permanently seal it, which could occur over the next several days. The process by which DOGGR will confirm that the leaking well is permanently sealed could take several additional days after the cement is injected. The company also is continuing its preparations to drill a backup relief well as a precautionary measure and will continue these efforts at least until the leak has been stopped permanently, the timing of which has not been determined yet.
Residents in Porter Ranch who temporarily relocated because of the odour from the gas leak have been notified today of this development, as have the majority of other residents of Porter Ranch.
Once DOGGR confirms that the well has been permanently sealed, the company will start winding down its temporary relocation programme. Subject to certain exceptions, residents who have temporarily relocated to short term housing, such as hotels, will have up to eight days/seven nights to transition back home, and residents who have been placed in rental housing will have through the agreed term of their leases to return home.
Adapted from press release by Rosalie Starling
Read the article online at: https://www.tanksterminals.com/storage-tanks/15022016/socalgas-controls-flow-of-gas-at-aliso-canyon-well-2485/
You might also like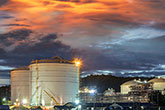 Square Robot is celebrating the launch of a series of in-service storage tank inspections in partnership with the Tennessee Valley Authority (TVA) through the Electric Research Power Institute's (EPRI) Incubatenergy® Labs Cohort program.