SoCalGas and Electrochaea announce commissioning of new biomethanation reactor system pilot project
Published by Naomi Holliman, Digital Editorial Assistant
Tanks and Terminals,
---
Southern California Gas Co. (SoCalGas) and Electrochaea have announced the commissioning of the USA's first scalable biomethanation reactor system at the US Department of Energy's National Renewable Energy Laboratory (NREL) Energy System Integration Facility in Golden, Colorado.
The technology uses renewable electricity to convert hydrogen into pipeline quality methane for use in homes, businesses and in transportation. Over the next 24 months, the project will assess the commercial viability of this power-to-gas approach to energy storage and decarbonisation and provide insights into potential mega-watt scale system designs. The announcement was made in conjunction with NREL's third annual Partner Forum.
Biomethane, or renewable natural gas, is created through this bioreactor system in a two-step process. First, renewable electricity, generated by the sun, passes through an electrolyser where water molecules are split into hydrogen and oxygen, storing the renewable electricity as hydrogen gas. The newly-created 'green' hydrogen is combined with CO2 and piped into the reactor where archaea microorganisms produce renewable natural gas by consuming hydrogen and CO2 and emitting methane. The system is capable of recycling CO2 from a myriad of sources, such as ethanol plants and anaerobic digesters, preventing greenhouse gas emissions and displacing the consumption of fossil methane. The catalyst was originally developed at the University of Chicago and the basic methanation system was designed by Electrochaea and demonstrated in Europe.
The project in Colorado builds upon and advances research previously conducted by Electrochaea of Munich, Germany. The reactor system operates at a 50 – 60 % efficiency. For every 10 kWh of power received by the water electrolysis model, the equivalent of 5 to 6 kWh of methane is created by the microbes.
"This is an exciting time in the development of clean energy," said Yuri Freedman, Senior Director of Business Development for SoCalGas. "In order to achieve our climate goals, we need to find solutions to the difficult problem faced with renewables like wind and solar – the issue of intermittency, and extensive mismatches between the periods of renewable energy generation and consumer demand. This project shows our existing natural gas pipeline infrastructure can store excess renewable energy for periods of time ranging from seconds to months."
"We are pleased to be a part of this partnership and to see biomethanation provide a versatile tool for the nation's renewable energy portfolio," commented Mich Hein, Chief Executive Officer of Electrochaea. "With SoCalGas and NREL demonstrating the scalability of this technology we can soon realise safe and reliable storage of renewable energy well beyond the capacity of batteries. A simultaneous benefit will be lowering the overall carbon intensity of the natural gas grid, as we have already accomplished with parts of the electrical power grid."
The next phase of the project will focus on improving the process efficiency, automating plant operations, reducing capital costs and identifying locations in the western US, including California, where grid-scale energy storage would be most beneficial and cost-effective.
Studies show that without long-term storage solutions, by 2025 California is expected to waste enough renewable energy each year to power Los Angeles County, the most populous county in the United States, for more than a month.
Electrolytic hydrogen, renewable natural gas and nascent technologies like biomethanation and long-term energy storage through power and gas gird integration are part of SoCalGas' integrated plan to help California achieve its ambitious climate goals.
Read the article online at: https://www.tanksterminals.com/storage-tanks/14082019/socalgas-and-electrochaea-announce-commissioning-of-new-biomethanation-reactor-system-pilot-project/
You might also like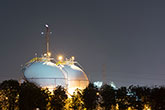 In November CNPC Tangshan LNG Terminal welcomed its 472nd LNG vessel in a 10-year milestone.