---
Since June 2016, Brenntag GmbH has been using the OpenTAS Terminal Management System (TMS) to load its heating oil and diesel products at its terminal in Britz, Berlin. As a first step, the specialists from the Implico Group set up inventory accounting using the OpenTAS system; the second step was to move to tank truck automation. Processes such as Excise Movement Control System (EMCS) reporting or the creating of shipping documents for truck drivers are now fully automated, taking just seconds to complete.
The terminal at Britz (Berlin) is the only mineral oil terminal operated in Germany by chemicals distributor Brenntag. Deliveries arrive via railcar and are shipped out using trucks. In the past, the heating oil and diesel shipments were managed using two separate software systems, since Brenntag had deployed hardware from two manufacturers on the loading platforms and was therefore using the solution from each provider. This made day to day work a bit more difficult in some cases, because processes had to be completed manually. The company therefore decided to introduce a hardware-neutral software solution capable of communicating with any piece of equipment in the field.
With OpenTAS, Brenntag GmbH is now using a centralised standard system for inventory accounting and loading automation. Almost all processes now run in the background and take just seconds to complete. "Earlier, each shipping document cost us a few minutes," says Kay-Uwe Lietz, Site Manager at Brenntag's Britz terminal. "Now, all system postings are made automatically and we just need to monitor the transactions." Avoiding potential errors caused by manual input is just one benefit; another is that month-end accounts for the terminal as a whole, involving both diesel and heating oil shipments, are now both easier and faster to prepare.
Fully integrated customs declaration
Time savings in relation to EMCS reporting are even more obvious. Some shipments made from the Brenntag terminal in Britz involve the suspension of excise duty and, therefore, need to be approved via the electronic EMCS. OpenTAS is certified for this procedure and offers built-in customs declaration: the system sends the loading data to the customs office automatically and feedback is received just a few seconds later.
Before OpenTAS, some shipments involved shipping documents being sent to a partner company, which performed the customs declaration online and then sent the confirmation back via email. This procedure sometimes took up to an hour – with the truck driver stuck at the terminal the entire time. "Today, a standard shipment with all of its particulars takes just 20 minutes to process," says Kay-Uwe Lietz.
Fewer errors, greater control
Automation via a centralised system improves further on Brenntag's existing system of stringent checks. Master data for the tank trucks and their drivers – including TÜV certification, registration papers, driver's licenses and ADR licenses – is now stored in the TMS. When drivers log on, by entering the terminal with their tank trucks, the relevant checks are made automatically in the background. During loading of the shipment, OpenTAS manages the loading checks and warns if the truck's gross vehicle weight is exceeded. The bulk of the data communication workload is handled by Implico's Hamburg-based data centre.
With Brenntag onboard, one of the leaders in chemicals distribution in Germany has opted for OpenTAS. Developed by the Implico Group, OpenTAS is used to run many tank terminals worldwide. The tightly-integrated solution automates and optimises every process involved in the storage and transportation of oil and gas products.
Adapted from press release by Francesca Brindle
Read the article online at: https://www.tanksterminals.com/storage-tanks/13072016/brenntag-gmbh-implements-implico-opentas-software-3699/
You might also like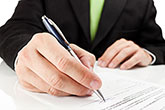 Mabanaft and Hapag-Lloyd have signed an MoU to evaluate options for the supply of ammonia as bunker fuel to Hapag-Lloyd in and around the Port of Hamburg, Germany, and the Port of Houston, US.