---
The International Liquid Terminals Association (ILTA) held its 36th Annual International Operating Conference and Trade Show on 23 - 25 May, at the George R. Brown Convention Center in Houston, Texas. Nearly 4500 individuals participated in the event.
On Monday 23 May, Melinda Whitney, ILTA's President, provided opening remarks and noted the association's strong membership base and support of the annual event. "One of the key strengths for ILTA is the input and involvement of our membership in our activities. This is particularly evident at this year's event as many employees from our terminal and supplier member companies are here. More than 20 conference speakers are from ILTA member companies, and 78% of trade show exhibitors are ILTA supplier members," she said.
ILTA's 2016 Plenary Speaker Brad Livingston delivered an inspirational story about the importance of safety in the workplace. Livingston shared his real life experience of surviving two back to back tank explosions while performing hot work to repair a pinhole leak on a drip tank at a natural gas well. In sharing his courageous road to recovery, and the key lessons he learned along the way, Livingston captivated the audience and reminded everyone that just a second is all it takes to change a life forever. During the conference, industry experts delivered presentations that focused on strategies for promoting worker safety, improving operational performance, and complying with regulations and industry standards. This year's programme also included a leadership track with sessions on building effective teams, creating a positive workplace culture, and understanding generational differences.
On Tuesday 24 May, ILTA held its 10th Annual ILTA Safety Awards Presentation and Breakfast and honoured 19 terminal member companies that achieved outstanding safety performance in 2015. All award recipients were identified from among the 48 companies that participated in ILTA's Survey of Terminal Member Safety Data for 2015. The conference concluded with an entertaining keynote luncheon featuring Jon Wee and Owen Morse, known as The Passing Zone. Through their juggling routine, Wee and Morse showed the audience how high performance teams are based on three cornerstones of success: innovation, collaboration, and execution. Calling upon audience members, including John Soderman, HMT LLC, and Earl Crochet, Kinder Morgan, The Passing Zone proved that amazing things can be accomplished when people work together.
The 2016 trade show opened on Tuesday afternoon and featured 339 exhibiting companies, including 49 first time exhibitors. More than 40% of 2016 attendee survey respondents indicated that their company has already placed or will place an order with an ILTA exhibitor following the event. During the trade show on Wednesday, ILTA hosted a new Trade Show Symposium featuring sessions that examined coating applications, loading rack technologies and safety equipment, vapour control systems, and terminal automation.
The 37th Annual International Operating Conference and Trade Show is scheduled for 12 - 14 June 2017, in Houston, Texas. The conference will take place at the new Marriott Marquis Hotel. Also, ILTA's trade show will be relocated to the north end of the convention centre, making it easy for attendees to walk between both venues.
Adapted from press release by Rosalie Starling
Read the article online at: https://www.tanksterminals.com/storage-tanks/10062016/terminal-industry-gathers-for-iltas-2016-conference-and-trade-show-3504/
You might also like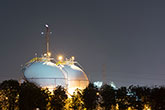 BP and PetroChina have agreed to acquire 2 billion m3/yr of regasification and storage capacity at Gate terminal.