---
The report entitled 'Wireless Gas Detection Market by Technology (Wi-Fi, Bluetooth, Cellular, License-Free Ism Band), Type (Hardware (Detectors/ Sensors, Gateways, Monitors and Controllers), Software, Services), and Geography - Global Forecast to 2023', published by MarketsandMarketsTM, the wireless gas detection market was valued at US$1.07 billion in 2016 and is expected to reach US$3.01 billion by 2023, at a CAGR of 16.03% during the forecast period.
Wireless gas detection offers high accuracy, flexibility, and reliability in the detection of gas leaks. Moreover, the installation of wireless gas detection is cost effective as it reduces about 90% in installation costs as compared to traditional wire gas detection systems. These systems are used for industrial safety and have been widely adopted by end users such as oil & gas, chemical and petrochemical, and mining and metal industries.
The market for Wi-Fi-based wireless gas detection systems has the largest market due to the growing ability of Wi-Fi to communicate directly with the other IP devices either locally or through the internet protocol (IP) network, which is presented in the application level data model layer. Installation of wireless gas detection systems saves significant costs compared to wired gas detection systems, resulting in 60 – 90% overall savings. The Wi-Fi technology is suitable for efficient and safe industrial operations.
Most industry specific players provide wireless gas detection systems, which include hardware, software, and services. Services are necessary for reliable and long term processing of wireless gas detection. Also, the growing need to learn about new technological innovations in wireless networks by training and support services enables the services segment to be the fastest-growing segment.
Most of the major vendors of wireless gas detection systems have a strong presence in North America. Moreover, the adoption of new technological innovations in North America is higher in relation to that in other countries. Also, the strong presence of manufacturing industries in this region enables high demand for wireless gas detection systems for worker safety and mitigation risk. These factors lead to North America holding the largest share of the wireless gas detection market.
Read the article online at: https://www.tanksterminals.com/storage-tanks/09062017/wireless-gas-detection-market-worth-us3-billion-by-2023/
You might also like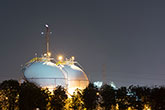 BP and PetroChina have agreed to acquire 2 billion m3/yr of regasification and storage capacity at Gate terminal.