The North American storage boom: part one
---
North America has seldom, if ever, experienced this growth in oil and gas production in such a short period of time. Concurrently, domestic consumption has been growing slowly, and efforts to build pipelines to move crude to market have been stymied. While many oil companies are facing major challenges, dealing with low commodity prices and midstream constraints, opportunities for storage are plentiful.
Oil
The oilsands contain approximately 2 trillion bbls of bitumen, of which 172 billion are considered economically recoverable. For the last decade, tens of billions of dollars have been poured annually into mining and in-situ projects; many of those projects are keeping bitumen production in an upward trajectory.
The oilsands face difficulties getting product to market, however. In late 2015, the White House announced that the Keystone XL project, an 800 000 bpd pipeline designed to deliver heavy crude directly from Alberta to Gulf Coast refineries, was rejected.
Other options, including accessing tidewater to export outside of North America, face daunting challenges. Although Enbridge has been given approval by the National Energy Board (NEB) to construct the Northern Gateway pipeline, Aboriginal First Nations along the right of way (ROW) have threatened both court lawsuits and direct action. In addition, the newly elected federal government headed by Prime Minister Justin Trudeau announced plans to ban crude tanker traffic on the west coast of British Columbia.
Eastwards, Enbridge has been given approval by the NEB to reverse Line 9B, which delivers crude from Quebec to Sarnia, Ontario. The reversal will allow the company to deliver up to 300 000 bpd of heavy oil and lighter Bakken crude to refineries in the Montreal region. But TransCanada's Energy East Pipeline project is running into significant opposition, and the 4500 km, CAN$12 billion pipeline might not see the light of day for years to come.
There are two major crude storage hubs in the province: one in Edmonton, and one in Hardisty. The Edmonton region is a combination of caverns and tanks. In 2013, Edmonton had approximately 11 million bbls of storage. Hardisty is located in southeast Alberta at a junction point for major lines heading east and south. In 2013, it had approximately 20 million bbls of storage capacity.
Now, both centres are seeing dramatic increases in capacity. Gibson Energy has announced plans to construct 900 000 bbls of new capacity in Hardisty. Keyera and Kinder Morgan intend to add up to 6.6 million bbls in Edmonton. TransCanada and Enbridge also have plans for expansion.
In the US, crude production has also risen dramatically, primarily due to unconventional shale oil in the Bakken in North Dakota and the Eagle Ford and Permian plays in Texas. According to the American Petroleum Institute (API), US crude production reached 9.3 million bpd in March 2015, a 14.5% increase over the previous 12 months. Since then, the output has slipped by 200 000 bpd, averaging 9.1 million bpd in 4Q15. The API expects the declines to continue, with an average of 8.5 million bpd in 2016.
Because there are relatively few major crude lines serving North Dakota, much of the Bakken's production has been shipped by rail. What does come out by pipe makes its way to Cushing, Oklahoma, where it joins the tide of heavy oil marching south from Alberta. Cushing is the major storage facility for the US Midwest, serving refineries throughout the PADD 2 (US Midwest) region. In 2011, it had 60 million bbls of capacity. Since then, it has expanded by 25 million bbls, or over 40%. Pipeline operators have major plans to expand transportation south to the US Gulf Coast (USGC), but Cushing will need further storage expansion to meet growing oilsands production bottlenecks.
Although shale oil in Texas has the advantage of being close to the immense refinery and petrochemical complexes in the USGC (located in the PADD 3, or Gulf Coast, region), several wrinkles complicate its delivery to market. Most of the shale production is light, tight oil (LTO) that is not best suited to Gulf Coast refineries. In addition, the US has imposed a crude export ban since the early 1970s, limiting markets.
As a result, operators have been seeking new capacity in order to store production. In 2011, the USGC area had slightly over 300 million bbls of capacity; since then, it has grown by 56 million bbls, to almost 360 million bbls. Very little of that storage is going unused. According to the US Energy Information Administration (EIA), PADD 2 and PADD 3 crude inventories had reached a record high of 310 million bbls by December 2015.
Storage continues to expand rapidly. Fairway Energy Partners' Pierce Junction crude oil storage facility is set to come online at the end of 2016. Three caverns, capable of holding 10 million bbls, will add to the 30 million total crude storage capacity in the Houston area, and the company is planning 10 million more. Enbridge is committing US$5 billion to build three new oil terminals between Louisiana and Houston. Phillips 66 is doubling crude storage capacity, to 16 million bbls, at its Beaumont, Texas, terminal. According to Genscape, an energy consultancy, almost 20 million bbls of new crude capacity are being added in the next two years.
Terminal and storage opportunities for crude by rail have also grown tremendously in the last several years. Once a niche market, onloading and offloading facilities have sprung up in North America to the point where moving capacity exceeds 1 million bpd. Although the expansion in crude by rail has slowed recently due to low commodity prices, it is expected to remain an area of capital investment.
Read part two of this article here.
Written by Gordon Cope, Contributing Editor. This is an abridged version of an article taken from the Spring 2016 issue of Tanks & Terminals (a supplement to Hydrocarbon Engineering). Subscribers can view the issue by logging in.
Read the article online at: https://www.tanksterminals.com/storage-tanks/09032016/the-north-american-storage-boom-part-one-2712/
You might also like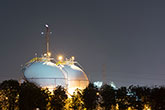 BP and PetroChina have agreed to acquire 2 billion m3/yr of regasification and storage capacity at Gate terminal.