---
The conference programme for StocExpo, which returns to the Rotterdam Ahoy in the Netherlands from 10 – 12 March 2020, has been unveiled.
The two-day conference will feature a mix of talks focused on critical global issues such as sustainability, the impact of energy alternatives, emerging markets, and the latest technologies and trends.
Artur Runge-Metzger, Director, DG CLIMA, European Commission, will open the conference with an assessment of the future of sustainable transport and the EU's energy policy. He will be followed by speakers covering the future implications of changes to the energy mix including LNG, a non-hydrocarbon future and the growth in hydrogen.
In considering the growth of LNG, Wim Groenendijk, Managing Director, Gate Terminal, will outline the development of a Northwest European multi-modal LNG Hub and the opportunities it presents in the context of decarbonisation and energy transition. Charles Daly, Chairman, Channoil Consulting will then explore how oil terminals need to change if they're to stay in business in a non-hydrocarbon scenario.
The world's key terminals, storage players, energy companies, investors and analysts are all monitoring closely the development of hydrogen, keen to gauge its future demand and the impact this will have on their businesses. To answer this, Daniel Teichmann, Chairman, Hydrogenious, will consider the latest political and industrial developments which are establishing hydrogen as an emission-free fuel. He will show how, thanks to Liquid Organic Hydrogen Carrier (LOHC) technology, hydrogen can be transported using existing liquid fuel infrastructure and will share with delegates the build-up of the company's first industrial-scale project.
Clearly sustainability has ramifications for how terminals are operated. Considering this, Rian Vermeulen, Senior Advisor BRO, and Dennis Risseeuw, Business Consultant Engie, will outline a unique approach to terminal sustainability – including measures to become more energy efficient, produce more renewable energy and protect local ecology.
Building on this, Khalid Saleh, Energy Coordinator, Vopak, will share the company's sustainable energy initiatives including CO2 emission reductions.
In a talk focused on the long-term impact of energy transition, Giacomo Boati, Director, Oil Markets, Midstream & Downstream Consulting, IHS Markit, will review the expected trends in decarbonisation of the transportation sector and the impact of this.
A future thinking panel will then pull all of this together to debate what the storage terminal will look like in 50 years' time, before the first day of the conference ends with a regulatory update provided by RaviBhatiani, Executive Director, FETSA.
The second day of the StocExpo conference starts with sessions on the implications of emerging markets and the US trade wars and tariffs. Andrew Inglis, Vice President of Energy and Fuels in EMEA, Nexant, will consider the shift in global demand from mature markets to emerging markets. Meanwhile, Samuel Ciszuk, Founding Partner, ELS Analysis, will examine how US trade wars / tariffs are impacting international tradeflows.
The conference then changes focus, with a series of expert talks on the latest developments, technologies and thinking designed to improve day-to-day terminal operations. These include improving cybersecurity, with Martin van den Bosch, Digital Forensic Investigator, Netherlands Seaport Police, who will outline how to protect against storage spoofing.
Maayke Maas-Cooymans, Partner, Ploum, will discuss terminal legislation compliance and the legal implications of PGS29. Luc Bonami, Managing Director, Anno Chemicals, will provide a customer perspective, outlining what terminals could and should be doing better. Leo Brand, CIO, Royal Vopak, and Nadine Herrwerth, Commercial Director, TWTG, will then consider The Internet of Things (IoT), explaining how IIoT equals smarter sites.
Tank overfills, unintended roof off-floats, and transmix in pipelines are all practical issues for storage companies. Earl Crochet, Director of Engineering, Kinder Morgan, will outline the role latest ultrasonic technology devices can play in preventing them.
Digital transformation programmes are also on many agendas. In response, Joe Nassif, Director, Terminal Industry Programmes, Emerson, will outline the safety, capacity yield, maintenance and energy gains which programmes have delivered.
A panel discussion brings the conference to a close with a look at the hype and reality of technologies such as drones, robotics, digitialisation, the IoT and artificial intelligence before asking what is the next big thing and how can it be used to improve safety, efficiency and security.
Mark Rimmer, StocExpo Divisional Director, said: "The bulk liquid storage industry has so many developments to consider - environmental demands, new technologies, emerging energy sources and markets together with a shifting political and regulatory landscape. We've carefully curated a programme to address all of these, delivered by a line-up of world-class speakers. This programme will both help companies prepare and plan for the future and optimise their present-day operations."
Read the article online at: https://www.tanksterminals.com/storage-tanks/06122019/stocexpo-2020-unveils-programme/
You might also like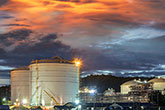 Square Robot is celebrating the launch of a series of in-service storage tank inspections in partnership with the Tennessee Valley Authority (TVA) through the Electric Research Power Institute's (EPRI) Incubatenergy® Labs Cohort program.