---
Steelhead LNG has appointed Corey Goulet as its Vice President, Pipeline, effective 3 July 2018.
Goulet brings 33 years of experience in the energy infrastructure industry to Steelhead LNG. His work experience and expertise include the successful development and operation of natural gas, hydro and transmission power facilities; gas, oil and refined products pipelines; and oil and gas production facilities, throughout North America.
Prior to joining Steelhead LNG, Goulet was most recently Vice President, Integrity and Projects at Tundra Energy Marketing.
In his new role, Goulet will work collaboratively towards successfully developing and leading the strategy for designing, contracting and constructing the natural gas pipeline and taking it into sustainable operating mode to meet the market demand for the affiliated Kwispaa LNG export facility. He will also support Steelhead LNG's gas supply contracting efforts.
"I am excited to be joining the Steelhead LNG team," said Goulet. "Steelhead LNG's low-cost strategy to developing the Kwispaa LNG project combined with its collaborative approach with Indigenous communities, and gas producer-friendly model, make it a leader in natural gas project development in North America. When you consider the growing demand for clean Canadian natural gas in Asia and the opportunity Kwispaa LNG offers producers in British Columbia and Alberta, it's clear the company is poised for commercial success in the market."
Steelhead LNG will source Canadian natural gas for the Kwispaa LNG facility from various producers in northeastern British Columbia and northwestern Alberta. Steelhead LNG is currently assessing pipeline routing options within a proposed pipeline corridor that extends from the Chetwynd area to Williams Lake area, southwest to Powell River, subsea across the Salish Sea, terminating at the Kwispaa LNG facility.
"Corey's wealth of pipeline development, implementation and operations experience is a perfect complement to Steelhead LNG's experienced management team" said Steelhead LNG's Executive Chair for Pipeline, Randy Jespersen. "Having led the development of significant North American energy infrastructure projects, Corey is extremely well-placed to ensure that the development of Steelhead LNG's natural gas pipeline is delivered in a safe, respectful and environmentally responsible manner."
The targeted in-service date for the pipeline project is 4Q24, subject to the receipt of the necessary regulatory approvals and permits in British Columbia, final investment decision on the Kwispaa LNG facility and pipeline project, and construction of the proposed natural gas pipeline and Kwispaa LNG facility.
Read the article online at: https://www.tanksterminals.com/storage-tanks/05062018/steelhead-lng-announces-senior-appointment/
You might also like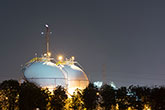 BP and PetroChina have agreed to acquire 2 billion m3/yr of regasification and storage capacity at Gate terminal.