---
Fox Petroleum Limited, one of India's leading energy companies, has proposed that the Government of Karnataka should set up India's first Floating Storage Regasification Unit (FSRU) LNG terminal. The offshore terminal needs to process 1 billion ft3/d of gas with an onshore and offshore storage capacity of 330 000 m3 of LNG in order to cater to the energy needs of the State of the Karnataka.
Ajay Kumar, Chairman and Managing Director of Fox Petroleum Limited gave a detail oriented presentation to Shri. K. Siddaramaiah, Honourable Chief Minister, Government of the Karnataka at 'Krishna', the home office of the Honourable Chief Minister at Bangalore, Karnataka, India.
During his presentation, Kumar shared a comprehensive analysis of the opportunities and challenges of setting up the project and explained how they can contribute to the energy needs of the state. He said, "The world's energy demand is growing far more rapidly than the energy industry can supply, so alternative resources are being investigated to address the deficit in energy production. Liquefied natural gas is one of the alternatives being explored. Recent advancements in technology have given energy companies the ability to transport and deliver LNG long distances, and because of the impending energy shortage, federal regulatory agencies have relaxed the constraints that have been imposed in recent years on granting offshore construction permits in relation to LNG terminals."
"These terminals will help in the delivery of LNG to onshore locations via an infrastructure of subsea pipelines. Fox Consultancy Services', one of Fox Petroleum's group companies, has had six engineers of senior class tasked to provide a front end engineering analysis for a floating storage and regasification unit (FSRU) which [has been] proposed [to be] located in the India Coastal region, off the coast of the Arabian Sea" Kumar added.
In order to successfully commission the project, the terminal has to satisfy regulations as set forth by the Government of The Karnataka and Government of India, as well as other statutory and regulatory bodies of Government of India and design constraints imposed by concerning operational expectations. Such constraints consist of:
Permanently moored in 40 m of water.
Must be able to process 1 billion ft3/d of gas.
Must have a storage capacity of 330 000 m3 of LNG.
Must maintain a constant draft condition while loading or offloading.
Must sustain offloading operations in a one year storm event.
Must sustain shoreline delivery of LNG in a 10 year storm event.
Must survive a 100 year storm event.
Fox Petroleum has also arranged all the technical and financial requirements for the project including funding the project by its own capacity. Once installed, the project will be an enormous opportunity for the local community and local economy in Karnataka; in terms of employment opportunities and township development for the staff, health and hygiene facilities. It will also develop state GDP by 10%, approximately.
Adapted from press release by Francesca Brindle
Read the article online at: https://www.tanksterminals.com/storage-tanks/04052016/fox-petroleum-propose-fsru-lng-terminal-for-india-3199/
You might also like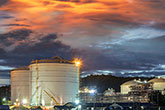 Square Robot is celebrating the launch of a series of in-service storage tank inspections in partnership with the Tennessee Valley Authority (TVA) through the Electric Research Power Institute's (EPRI) Incubatenergy® Labs Cohort program.