---
Nikkiso Co. Ltd has acquired Cryogenic Industries Inc. and Cryogenic Industries AG.
The transaction consists of all of Cryogenic Industries' operations, including ACD, Cosmodyne, and Cryoquip.
Nikkiso is confident of development in the key markets that Cryogenic Industries serves, including industrial gas, LNG, hydrogen and marine LNG.
Aside from expected market developments, this acquisition will offer the joint group of Nikkiso companies significant opportunities for alignment of activities and efficiency improvements.
Toshihiko Kai, President and CEO of Nikkiso, said: "The acquisition will strengthen our global presence through Cryogenic Industries' strong position in North America. It will provide an excellent complementary fit for Nikkiso group's global base for production, which will allow us to gain efficiency improvements and balance currency effects. As a joint group of companies, the setup will allow us to have customer focused centers around the globe that will be in position to support the entire range of Nikkiso group products."
Ross Brown, Chairman and Chief Executive Officer of Cryogenic Industries, said: "We look forward to working with Nikkiso to continue enhancing and expanding our global cryogenic technology offerings and realise opportunities in an aligned global group."
Each of the branded companies will act as a distinct entity with its own focus and targets, Nikkiso group will utilise and develop the synergies of service capabilities, common market approach and logistics across all product groups and companies.
Naota Shikano, Senior Nikkiso Board Member responsible for the Industrial Business Segment, added: "Our future profitable growth is assured by positioning our company in technology driven markets and the markets of the future. By combining the Nikkiso Group with Cryogenic Industries companies and the resulting global network of dedicated people, we will extend our position in our existing and target markets and be in position to achieve growth above the market rate."
Read the article online at: https://www.tanksterminals.com/storage-tanks/01092017/nikkiso-acquires-cryogenic-industries/
You might also like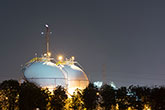 BP and PetroChina have agreed to acquire 2 billion m3/yr of regasification and storage capacity at Gate terminal.