---
Hydrocarbon processes require large amounts of energy, much of which is supplied by steam. This steam is typically supplied by onsite low to medium pressure boilers (650 psig), cogeneration facilities and local utilities (1000 psig and up) designed to supply excess steam to neighbouring facilities. The efficiency of the refining and other hydrocarbon processes relies on the optimisation of heat transfer in the processing plants and the control of the inputs to steam production such as returned condensate and makeup water.
The quality and cleanliness of the steam in processing equipment, such as heat exchangers, is directly related to heat transfer and equipment life. Therefore, it is important to monitor chemistry of this steam and condensate. In cogeneration and utility plants, chemistry in the entire steam-water cycle is closely monitored to ensure steam quality and to control corrosion in the system.
Typical chemistry parameters that are monitored include pH, conductivity, cation conductivity, total organic carbon (TOC) and others based on system design, metallurgy, makeup water characteristics and boiler chemistry regime.
One or more of these parameters, such as conductivity and pH, can be used to control the addition of chemicals into the steam-water cycle.
In the past, many of these measurements were acquired through the analysis of grab samples, taken from sampling points consisting of a pressure reduction valve and sample cooler. The quality of these measurements was directly related to the representativity of the grabbed sample. However, the grab sample is affected by many variables and operator bias, thus it is no longer considered suitable in modern processing facilities. For example, if the operator did not allow the sample to flow for a suitable amount of time before taking it, the sample would be composed of non-representative fluid. Also, if the container and procedure to capture and transport the sample did not maintain representivity (contaminants, oxygen, etc.), measurements on these samples would be invalid.
Modern analyser technology applies online chemistry parameter measurements, which automates the data collection process and removes sample collection and analysis bias…
Written by John Powalisz, Sentry Equipment Corp., USA.
This article was originally published in the January 2020 issue of Hydrocarbon Engineering. To read the full article, sign in or register for a free trial.
Read the article online at: https://www.tanksterminals.com/special-reports/16012020/a-sample-of-whats-to-come/
You might also like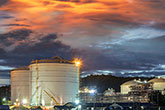 Square Robot is celebrating the launch of a series of in-service storage tank inspections in partnership with the Tennessee Valley Authority (TVA) through the Electric Research Power Institute's (EPRI) Incubatenergy® Labs Cohort program.