---
The energy sector must overcome a lack of trust in artificial intelligence (AI) before the technology can be effectively used to accelerate the energy transition, a DNV report has found.
Based on interviews with senior representatives from energy companies across the UK, DNV's research determined that while AI is already being used across the sector, companies are largely cautious of its new and unestablished uses. Interviewees include industry personnel from the Centre for Data Ethics and Innovation, EnQuest, National Gas, National Grid Electricity System Operator (ESO) and the Net Zero Technology Hub, among other organisations.
'AI insights: Rising to the challenge across the UK energy system' outlines how AI can contribute to the energy transition and that an industry-wide approach to standards and best practices is required to unlock its potential. While AI can be key to advancement and innovation in energy supply chains, the research found that putting in place the foundations for trust in the providers of AI solutions and the outputs of those solutions must be prioritised in light of recent geopolitical events highlighting the need for countries to have energy sustainability, security and affordability – in effect, a parallel trilemma for AI as it is increasingly democratised and utilised. It was also found that data policies and industry culture present significant barriers to its widespread adoption.
At industry level, data sharing has been identified as the area which requires the greatest improvement. In terms of culture, it was found that the engineering community has a high level of risk aversion and low tolerance to error.
Hari Vamadevan, Executive Vice President and Regional Director UK and Ireland, Energy Systems at DNV, said: "To truly harness the benefits of AI in the energy sector, it's critical this technology is trusted. There are two main challenges in achieving this: information to evaluate the trustworthiness of an AI system, and communication, to relay evidence which allows users to trust the systems."
The emergence of AI also poses cyber security risks in the sector, with heightened geopolitical tensions and the accelerating adoption of digitally connected infrastructure sparking concern over industry's vulnerabilities to cyber threats.
Shaun Reardon, Head of Section, Industrial systems, Cyber Security at DNV, said: "Accurate, accessible, reliable, and relevant – digital technologies and AI tools must be all these things if we are to trust them. But they must also be secure. Digital technologies – set to be enhanced by AI – are being connected to control systems and other operational technology in the energy industry, where safety is critical. The industry needs to manage the cyber security risk and build trust in the security of these vital technologies."
Read the article online at: https://www.tanksterminals.com/special-reports/07092023/ai-must-gain-trust-of-the-energy-sector/
You might also like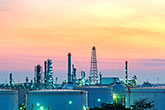 Proton Ventures was awarded FEED by Vesta Terminals for the first independent ammonia terminal of North-West Europe.