---
Digital business transformations are about doing things differently – creating new business designs using digital solutions to deliver more value to businesses, people and processes. While it seems that everyone is talking about these digital solutions, one key question is whether this is a passing trend or a truly transformative opportunity.
Sluggish global growth and the highly commoditised market for petroleum products mean that downstream companies, such as tank and terminal operators, need to explore new areas of process optimisation. Integrating automation, safety and other systems, such as telecommunications, can save companies 20 – 30% in capital and operating expenditures.
For example, one way to minimise downtime is to take full advantage of today's availability of inexpensive, non-intrusive sensors and real time asset monitoring systems. These devices make it possible for companies to shift away from time-based maintenance strategies, which can repair equipment too often or too little, to ones that are more heavily based on actual equipment needs. Avoiding unnecessary repairs is not only cheaper due to reduced frequency, but this also minimises the opportunities for things to go wrong. For example, it is not uncommon for equipment that has been maintained not to be put back to the correct parameters once maintenance procedures have been performed. Additionally, if a company's equipment indicates that it is likely to break down soon, the company has the opportunity to take proactive action before it fails.
In addition to improved maintenance strategies, another way that technology can help downstream players generate competitive advantages is by improving visibility beyond an individual plant, tank or terminal to an enterprise level, or even along the hydrocarbon supply and demand chain. Doing so can yield benefits from both a cost-saving and revenue-generating perspective.
Written by Juan Tapia, ABB, Spain.
This article was originally published in the Winter 2017 issue of Tanks & Terminals. To read the full article, sign in or register for a free trial subscription.
Read the article online at: https://www.tanksterminals.com/special-reports/05122017/digitalisation-here-to-stay/
You might also like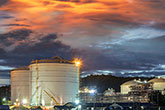 Square Robot is celebrating the launch of a series of in-service storage tank inspections in partnership with the Tennessee Valley Authority (TVA) through the Electric Research Power Institute's (EPRI) Incubatenergy® Labs Cohort program.