---
Operators have long struggled to obtain the most accurate level interface measurements to increase the efficiency of separators and maximise profits. In addition, with large tanks able to contain millions of gallons of liquids, even a small volume inaccuracy can translate into millions of dollars in lost revenue.
To optimise separation process performance and prevent costly product ingress, Emerson has enhanced its RosemountTM 5300 Guided Wave Radar Level Transmitter. The 5300 is a guided wave radar for liquid level measurement which can now perform accurate measurements of a thinner liquid layer to the top of the tank in interface applications, enabling increased throughput and profitability. Additional new features provide greater ease-of-use, increased safety and enhanced performance in the most challenging level and interface applications.
In interface measurement applications such as separators, the top product layer must be of a certain minimum thickness for a guided wave radar transmitter to distinguish between the echoes from the two liquids. Previously, this minimum detectable thickness would be between 50 and 200 mm. Emerson's patented Peak in Peak interface algorithm now enables the 5300 to detect a top liquid layer of just 25 mm. This further prevents unwanted product ingress and enables the performance of a separation process to be optimised, helping users maximise operational efficiency and profitability.
The 5300 can provide accurate and repeatable measurement to the very top of a tank when used with a large diameter coaxial probe. These probes provide a strong return signal, have no upper dead band and are not affected by obstacles on the tank wall. High amplitude noise created as microwaves passing through the process seal between transmitter and probe has traditionally affected measurement accuracy at the top of the tank. Enhanced process seal design has enabled Emerson to eliminate this noise, facilitating accurate measurement to the top of the tank during both filling and emptying phases.
"Maximising tank capacity and increasing throughput are important objectives for end users, as this leads to increased profitability," said Christoffer Widahl, Product Management Lead with Emerson's measurement and analytical business. "The ability of the Rosemount 5300 to accurately and reliably measure a thinner top liquid layer and right to the top of the tank, enables them to achieve this, even in the most challenging level and interface applications."
To ensure the integrity of the transmitter in safety-critical applications such as overfill prevention and dry pump protection, verification reflector functionality enables comprehensive remote proof-testing of the device with 94% test coverage. This can be performed in minutes from the control room during operation and without having to raise the tank level to a potentially hazardous point, thereby reducing downtime, minimising risk and maximising the safety of both plant and workers. Compared with traditional diagnostics, which only monitor the transmitter electronics, verification reflector functionality can also be used to diagnose problems with the upper parts of the probe inside the tank, such as corrosion monitoring and other process-related conditions.
Read the article online at: https://www.tanksterminals.com/product-news/19072019/updated-level-measurement-technology-to-enhance-accuracy/
You might also like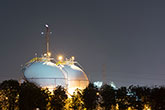 In November CNPC Tangshan LNG Terminal welcomed its 472nd LNG vessel in a 10-year milestone.