---
As part of its new rental partnership with Silverwing, Ashtead Technology has added a range of tank floor inspection technologies to its fleet of rental instruments.
Manufactured by Eddyfi Technologies, the new equipment is all from the Silverwing product line and includes the Floormap 3DiM tank floor scanner, the Handscan manual tank floor scanner and vacuum boxes for bubble leak testing of tank floor welds.
"These instruments are an exciting addition to our fleet," said Ashtead Technology's NDT Sales Manager, Steve Drake. "The inspection and maintenance of tanks is extremely important for safety, environmental and financial reasons. Together with our extensive range of remote visual inspection, ultrasonic corrosion mapping and flaw detection equipment, the addition of these Silverwing products means that we can now offer a complete tank inspection solution."
The Floormap 3DiM operates at 500 mm/sec. and combines two technologies: magnetic flux leakage (MFL) for detection and sizing of corrosion, and surface topology air-gap reluctance sensors (STARS) that identify whether the corrosion is on the top or bottom surface of the floor plate. It can also detect corrosion underneath paint or other surface coatings.
The 3DiM's capturing and storing of data allows inspectors to produce colour-coded corrosion maps of the tank floor, so that tank engineers can compare and review historical data sets to assist with repairs. In addition, high-resolution sensor heads can detect indications that measure as little as 2 mm dia. In combination with signal processing and defect classification tools, this improves corrosion detection and sizing capability.
Jim Costain from Eddyfi said: "Many organisations will only have occasional or project based requirements for this technology so it makes sense to hire the equipment. We are therefore delighted to be partnering with Ashtead Technology to ensure that financial constraints do not prevent customers from having access to the best technology."
Read the article online at: https://www.tanksterminals.com/product-news/15012018/tank-floor-inspection-technologies-added-to-rental-fleet/
You might also like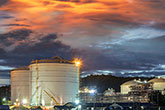 Square Robot is celebrating the launch of a series of in-service storage tank inspections in partnership with the Tennessee Valley Authority (TVA) through the Electric Research Power Institute's (EPRI) Incubatenergy® Labs Cohort program.