---
Eddyfi Technologies has announced the release of the new FloormapX, a multi-technology Magnetic Flux Leakage (MFL) Array tank bottom inspection solution aimed at increasing productivity.
The patented FloormapX offers uexcellent efficiency and ability to address almost any tank. It offers an excellent probability of detection – including in the critical zone – and can effectively address thick plates and coatings. The unique STARS technology provides top/bottom corrosion discrimination and allows inspectors to get a clear view of the floor underneath coatings to visualise corrosion and features such as patch plates and welds. It can perform ultra-fast screening, thanks to the new Freescan™ mode, or comprehensive floor mapping with full data recording. The tool finds smaller defects allowing asset owners to take immediate action and extend inspection intervals.
Tank floor inspection ensures the safety and integrity of storage tanks by preventing accidental leaks and avoiding costly decontamination while providing critical data to make lifetime and repair predictions. "With this new product, we focused our research and development teams' efforts on coming up with a complete solution that would significantly improve the way storage tanks are inspected now. We tackled dead zones and came up with a design and technology that maximises coverage, including the critical zone within 12 mm, or 0.5 in., of the shell wall. Doing so drastically reduces dead zones and allows inspections to deliver comprehensive and accurate reports to asset owners who in turn can take decisions confidently," said Stuart Kenny, Business Unit General Manager.
The FloormapX also supports multiple scan modes, including the Freescan mode which has the capacity to map annular plates, and offers customisable reporting options to suit EEMUA 159 and API 653 recommendations. "A lot of effort was made to understand what the needs of the customers were and translate them into a reliable solution. We also believe that the timing of this new release couldn't be better, with storage tanks throughout the world being at full capacity, and old tanks being recommissioned to store liquids. The health and overall safety of these assets is of the utmost importance and we are very proud to bring forward an innovative product that will play a critical role in the industry," said Vincent Pasquer, Senior VP, Business Units at Eddyfi Technologies.
The new FloormapX offers unique features such as precision active steering for fast and high-quality curved scans in the critical zone, an interactive laser guide to easily correlate the physical locations of tank floor defects with C-scan images, onboard powerful lighting, and SmartMAGNET™ for optimised inspection performance depending on plate thickness. Furthermore, the powerful rare earth permanent magnets can be completely turned off. These new features are designed with a modular approach and manageable components for improved operational ergonomics and easier storage, shipping, and overall safer handling.
The FloormapX is powered by the SIMS™ software, instrumental in increasing workflow efficiency and producing accurate and comprehensive tank inspection data. With a streamlined interface, operators can select pre-planned workflows or create their own for both mapping and Freescan modes. FloormapX also provides real-time live displays during acquisition, meaning the operator can simultaneously see live MFL Array and STARS C-scan images. This combines with an ability to temporarily pause the scan and use the laser-assisted defect location feature for rapid and precise flaw detection and identification, rendering prove-up times to mere seconds. Once proven, the operator can update the automated and editable indication list, resulting in a completely paperless reporting strategy.
Read the article online at: https://www.tanksterminals.com/product-news/10112020/eddyfi-technologies-launches-new-tool-for-storage-tank-floor-inspection/
You might also like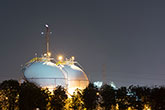 In November CNPC Tangshan LNG Terminal welcomed its 472nd LNG vessel in a 10-year milestone.