Storage tanks - 24 February 2017
Tanks & Terminals is a print and digital supplement to the industry-leading Hydrocarbon Engineering magazine. Get your free copy.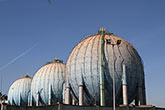 Energy Transfer has announced it will construct its fifth fractionation facility at Mont Belvieu, Texas.
Howard Energy Partners has announced its plans to significantly expand its deep-water terminal in Port Arthur, Texas.